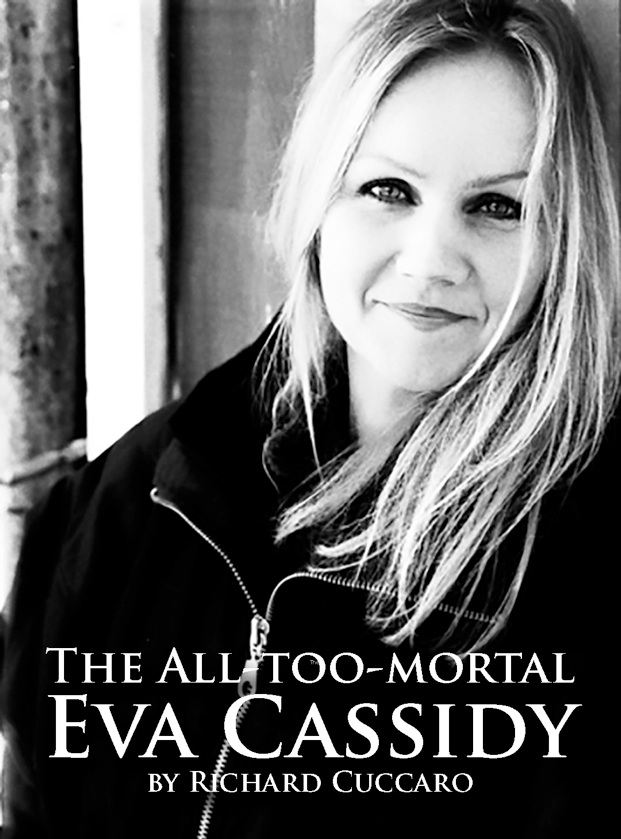 Sometimes a song has the power to stop time in its tracks. For a moment, when I hear Eva Cassidy sing "Somewhere Over the Rainbow," she's still here and there's time to tell her how magnificent her voice is. But she's not immortal, I know she's gone and I ache in the knowing. Melanoma cancer felled her at the age of 33. She'd had a malignant mole removed from her back but, undetected, three years later the cancer resurged, spreading to her bones and lungs. In spite of last-ditch aggressive chemotherapy, she died at her parents' home in Bowie, Md., on Nov. 2, 1996.
Her version of "Somewhere Over the Rainbow" is different than the versions I'm used to. There's a purity in the vocal and a melancholy aura that expresses something unattainable. The melody floats on air, like a feather held aloft on a column of air. The inventive phrasing borders on jazz. Not a songwriter, Eva's art was in interpreting a song and styling it so that it would make an emotional impact on a listener. Eva never seemed to grasp the size of that impact on others or the origins of her art. The arc of her life holds some clues.

Around 10 years ago someone suggested that I look into this singer. I listened to one or two songs, but involved with then-current features, I didn't investigate further. Recently, a family member mentioned Eva and emailed a link to a video. That video, an ABC-TV Nightline documentary authored by former New York area newscaster (and staunch Eva fan) Dave Marash, opened my eyes to the great loss of this very special artist. Wikipedia states: "His May 2001 Nightline documentary about singer Eva Cassidy was one of the highlights of his years with the program."

Although a lot of material has been posted online, the bulk of the observations that follow are taken from the book Songbird: Eva Cassidy: Her Story by Those Who Knew Her by Rob Burley and Jonathan Maitland.

Roots

Eva's parents, Hugh and Barbara, met in 1961 at a military hospital in Bad Kreuznach, Germany, where her father was stationed as an Army medic. Her mother, who was German, worked as a hospital receptionist. They fell in love, got engaged and married within a matter of months. Eva's eldest sister, Anette, was Barbara's daughter from a previous marriage. Her next-oldest sister Margret was born in Germany, and the family immigrated to the U.S. in 1962 when Hugh's tour of duty ended. Barbara was already pregnant with Eva, who was born on Feb. 2, 1963 in Washington, D.C. Her brother Dan was born a year later.

Early Years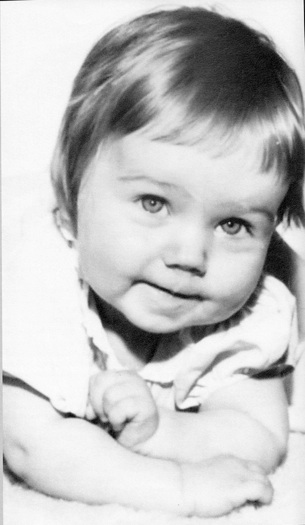 At first the family lived in Oxon Hill, Md., within sight of the Washington Monument. When Eva was 9, the family moved to Bowie, 15 miles farther northeast. Bowie had a rural ambience with swamps and woods.
Eva's life was a rollercoaster. She had a lovely beginning. She was a happy kid, showing signs of a huge artistic talent. Fearless and creative, she could draw pictures from her imagination at will. Eva seemed in touch with nature and would notice everything on nature walks with her mother —  small flowers, cloud shapes, small rocks and individual characteristics in trees. She retained a lifelong childlike wonder toward all living things.

Hugh Cassidy was a special education teacher who played in a band on weekends. He was also an avid weightlifter with an incredible work ethic who trained regularly and won a world championship when his kids were young. A knee injury ended his weight training and he then had the time to give greater attention to his children, specifically in the area of music. His work ethic may have rubbed off on Eva and, although it was meant to spur her on, Hugh's admonition to "never be satisfied," to always look for improvement, may have resulted in her marked tendency to be overly self-critical.

The family record collection contained albums, mostly folk, many from the Smithsonian Folkways collection — artists such as Lead Belly, The Weavers, Harry Belafonte, Pete Seeger and Bob Dylan. The children had good voices. Hugh knew hundreds of songs and taught the children four-part harmony, at which Eva particularly excelled. There were instruments lying around and Eva picked up the autoharp, accompanying herself on songs. She moved on to the guitar at age 9, when her father began showing her chords. Hugh is quoted: "By 10 years old Eva knew all the diminished chords on the guitar … you repeat them right up the neck, and she thought that was real neat." As a singer, she was influenced initially by Joan Baez, Buffy Sainte-Marie and later, Linda Ronstadt.

Turning Point

Her early outgoing nature changed when Eva and her siblings were bused to a junior high school in more urban Lanham, closer to D.C. The atmosphere was aggressive and hostile. Children there, homing in on her different, sensitive nature, were verbally abusive. Eva became withdrawn and serious.

At Bowie High School, jocks and preppies ruled the roost, against the "freaks," who tended to be low achievers and dabbled in drugs. Eva didn't fit in anywhere. She felt isolated from the crowd at large and did her own thing. Her own thing, in addition to art, was music.

Stonehenge and Easy Street

In high school, Eva began to really hit her stride musically. At home, she'd keep to herself, staying in her room, making art and studying singers — not just listening, but imitating their styles. She and Dan had been playing together — he on violin, which he'd studied, and she on guitar. Dan played in a series of short-lived rock bands and convinced Eva to join and sing lead each time. Eva became enamored of the band Heart, with Nancy and Anne Wilson. She absorbed Anne's singing style and accurately belted out "Crazy on You" and "Barracuda." She also was doing Janis Joplin songs.

The best musician at Bowie High, keyboardist Ned Judy, heard Eva at a school event and was blown away by her maturity. "She sounded like a woman … I'd never heard anyone my age sing that way before." He invited her to join his progressive rock band, Stonehenge (Eva would return Dan's favors, getting him invited into Stonehenge). The band played a number of covers — everyone had their favorites. Eva nailed the Joplin cover, "Turtle Blues," and all the harmonies in the Yes classic "Close to the Edge." She had her own groupies, who'd yell her name at gigs. Friendships were formed in the band that would last Eva's lifetime. They'd hang out after practice, go camping, to the beach and to movies. This was the first time since elementary school that Eva had friends with whom she could feel safe.

During this period, Dan and Eva brought their father's American songbook collection to Ned's attention, with the idea to play standards to older groups for money. Thus, Easy Street was born. Eva studied singers like Ella Fitzgerald, Sarah Vaughan and Aretha Franklin — for her, Ella was the queen. Onstage, she mimicked Ella's scat singing and instrumental sounds. She gained valuable professional performance skills from playing in Easy Street.

Despite her successes at this time, she still had a low self-image. Once, Dan asked her about a drawing she had done of a pig crying drops of blood. She said, "That's me." When he protested, she said, "That's just how I feel sometimes." Eva couldn't recognize the status she'd attained in many people's eyes.

Music Over Art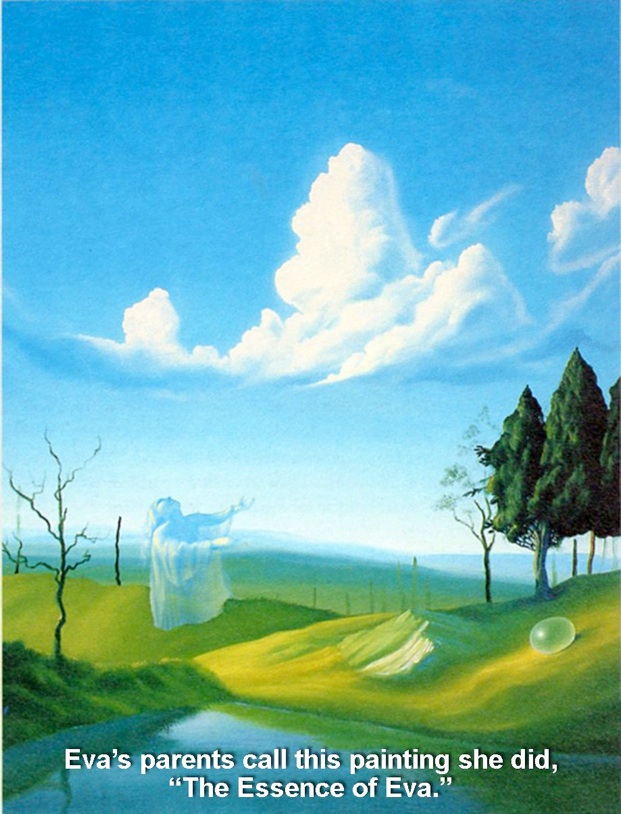 After high school, Eva enrolled in art classes at Prince George's Community College but dropped out after becoming frustrated with the classical painting regimen. Although she excelled enough to win first prize in a painting competition, stringent criticism from a painting instructor was the last straw and she left. After leaving college, she took a job at the nursery where her mother worked as a horticulturist and focused on improving her singing and guitar work.
The Big Leap

Stonehenge had disbanded and Ned Judy was asked to help with an album for the group Method Actor. He asked Eva to add vocals. They arrived at Black Pond Studios and Eva waited outside, feeling unsure and shy. Owner and engineer/bassist Chris Biondi asked, where's the singer? When she came in and began singing, Chris realized she was the best singer he'd ever heard. Some time after the Method Actor album was finished, Eva called him and asked to record some songs to help her book singing jobs. She'd become restless working at the nursery and finally decided it was time to move on and do music full time. They became a couple. Chris helped her make demos and get session work. He also helped form a band around her.

More often than not, they'd play to small audiences. Eva could blow people against the wall with her explosive power and range on up-tempo R & B, but it wasn't her preference. She liked ballads, which didn't translate well in noisy nightclubs. Record company scouts would come to see her, but she'd turn them away with her refusal to do anything commercial.

Mick Fleetwood, of Fleetwood Mac, had opened his jazz club, Fleetwood's, in Washington, D.C. Eva played there with her group many times. Mick sat in on a number of occasions. He tried to get her to focus on one genre, to no avail. She wanted to sing what she loved, no matter what the style.

The president of the jazz label Blue Note, Bruce Lundvall, was hugely impressed with Eva's voice and came to see her at Fleetwood's. He wanted to record her, but didn't know what direction to take. He ultimately didn't sign her.

When local legend Chuck Brown, the Godfather of Go-Go, looked for a studio to expand into jazz and blues, he came to Black Pond. Chris teamed him with Eva and they were a natural fit. They played the prestigious Blues Alley nightclub in Baltimore and made an album together, The Other Side. Eva really shines on this record.

Eva had made an album with her band, Live From Blues Alley, and was on tour to promote it when cancer struck for the second time, showing up in her hip. A diagnosis was made and she had only three months to live.

A final tribute show at The Bayou Club in Georgetown was organized and Eva showed up using a walker. Marshalling her strength, she sang one song with Chuck Brown and then, by herself, "What a Wonderful World." The entire audience of 700 people was awash in tears. At her parents' home, people flocked to pay their last respects, fighting to not cry in her presence. Bruce Lundvall called, emotionally distraught, and told her he'd made a mistake in not signing her. She weakly replied, "It's OK, really." Hugh, Dan and former band members played her favorite songs outside her bedroom window as she lay in bed, too weak to join them.

After she died, a network of agents and British radio hosts worked together to bring her voice to the millions who have now discovered her. Her records have gone platinum, without her earthly knowledge. She was a brilliant flame, extinguished by nature's fickle wind. There are too many other touchstones and sides to Eva to include here. We encourage our readers to discover more about her online and buy her albums.

Website: http://evacassidy.org