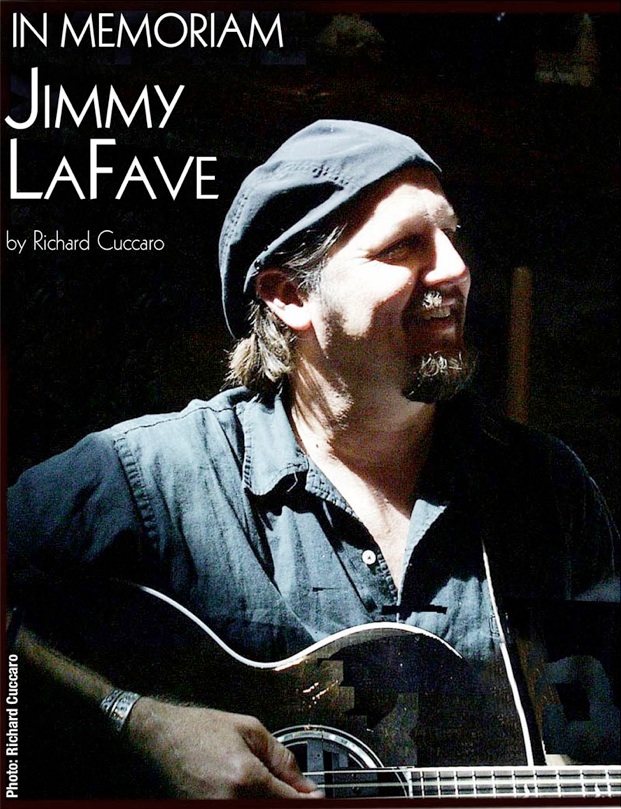 Sometime in April of this year, the news barreled down the internet that Jimmy LaFave, in his own words, was "a dead man walking" and "on my way off the planet." He was battling a rare form of cancer, spindle cell sarcoma, and, according to doctors, wouldn't make it to the end of the year. He was making a round of farewell appearances, including a number of festivals. We listed three in our annual May festival issue — Kerrville, Philadelphia and Falcon Ridge. I had my doubts that he'd make it as far as Falcon Ridge — in early August — and, unfortunately, I was correct.

A concert was held May 18 at the Paramount Theater in Austin, Texas, to honor Jimmy. Many of his musician friends played, including Eliza Gilkyson, Slaid Cleaves and Ray Bonneville. At the very end, Jimmy came out in a wheelchair and led everyone in singing "Good Night Irene." There wasn't a dry eye in the house. Three days later, he died at home.

The Introduction

In 1992, Jimmy's first CD out of Texas, Austin Skyline, was released. One of the tracks was a cover of  "Walk Away Renee," The Left Banke's '60s smash hit. It seemed written especially for his vocal cords to embrace. There were also a number of Dylan covers and some originals. The album demonstrated how Jimmy's voice was comfortable expressing a mournful loss ("Walk Away Renee") or the joy of an exuberant rocker ("Thru the Neon Night" and Dylan's "Leopard-Skin Pill-Box Hat"). Critics and fans were duly impressed.

I phoned Jimmy's agent in Texas and tried to book him at the Fast Folk Cafe when I volunteer-managed there in the mid-'90s. The agent gruffly asked, "What's the guarantee?" I could only sputter that our performers got half the door's proceeds. I don't recall exactly, but I think he just hung up.

A few years later I luckily discovered a small venue which had a formula that worked. The Cabin Concerts run by Tim and Lori Blixt in their home in Wayne, N.J., gave the entire door to the performers (as most house concerts do) and enabled them to make good use of the afternoon and still play an evening concert at, for example, The Towne Crier, an hour's drive away. That's exactly what Jimmy and his backup players did on more than one occasion. Thus I was able to see him live and up close and even engage him in conversation. The title photo was taken at Cabin Concerts, where Jimmy was positioned serendipitously under a small skylight. Several years afterward, I approached him for an interview and wrote a cover story for Acoustic Live (February 2008).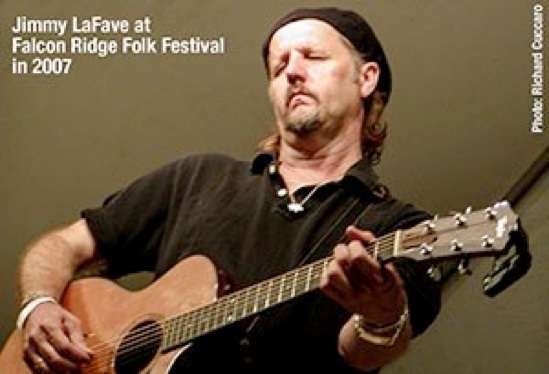 We saw Jimmy a number of times at Falcon Ridge Folk Festival as well. Although the brave runner stumbled short of Falcon Ridge this last time, the festival will host tribute performances. Tear ducts will have much work to do.

Farewell

I suppose, on a number of levels, with freedom of interpretation, Jimmy's song "Blue Nightfall" might express perfectly the sorrow that many of us feel at his passing.

Don't want to get out of this car / I just want to drive and drive / Into the fading light / And pretend I'm alive

Don't want to call your name / It hurts me way too deep / It's a blue nightfall / Now I weep

Here I stand, face in my hands / And you're all gone, like a faraway song /

I suppose that I should get some sleep / It's a blue nightfall / Now I weep

Farewell, Jimmy. A "Blue Nightfall" it surely is.