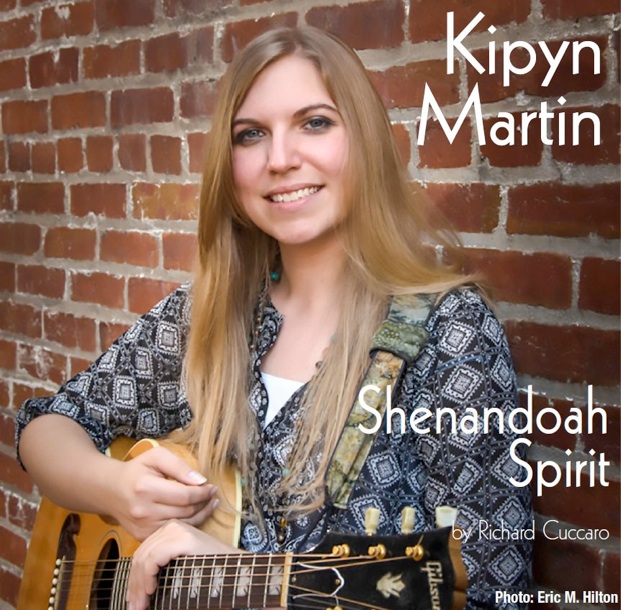 It is the summer of 2012. A young female singer/songwriter, fresh from graduate school with a Master of Music degree, finds her way to Hilltop House, a former hotel above Harper's Ferry, W.Va., overlooking the confluence of the Shenandoah and Potomac rivers. Outside a fence encircling the crumbling structure, she visits again and again. Kipyn Martin has come to summon the spirits of the past, her own and all who have come before, on this historic site. Combining a spiritual revelation with her array of musical skills, she will weave the essence of what will become her first recorded album,
Undercover Muse
. The path to Harper's Ferry was filled with many joyous moments, but was not without pitfalls.

Beginnings

Kipyn Martin was born in 1987 in Ranson, W.Va., a sister town to Charles Town, where she grew up. As family legend has it, her mother and sister, driving to the grocery store, were sitting in the front seat, harmonizing to the Mamas and the Papas. Kipyn was a toddler, perhaps 2 or 3 years old, riding in a car seat in back. They stopped singing at one point but continued to hear harmony — from Kipyn. At around 4 or 5 years old, she realized she could sing in tune. She now finds rapport with Art Garfunkel who said, "It is my first friend, my singing voice." She continued singing in chorus all through elementary and high school and into college.

Early on, she sang along with records at home. She remembers lots of Heart, Crosby, Stills and Nash and (obsessed with Stevie Nicks) Fleetwood Mac. Later on, she'd learn Sheryl Crow material and play Sarah McLachlan songs on piano. At 8 years old, she started using an old Yamaha classical guitar with nylon strings to create melodies to sing along with. She'd move her finger up and down the frets, like a slide guitarist without the slide, pluck the strings and sing songs. At 13 years of age, she acquired a Hal Leonard Guitar Method Book and taught herself to play chords in the standard, upright position. The first song she learned —with an easy guitar part, she says —was by k.d. lang, "So It Shall Be."

Her first performance with the guitar was a part in a high school production of Godspell when she was 15. The part called for her to play and sing "By My Side." Local venue coordinator Cheryl Mansley saw the play and gave her the opening slot at a Charles Town coffeehouse for a show headlined by seasoned singer/songwriters Mary Sue Twohy, Trina Hamlin and Amy Speace. Further performances at the same coffeehouse provided contact with much-heralded singer/songwriter Pops Walker, who hosts the annual Shenandoah River Songfest. He found in Kipyn a kindred spirit and took her under his wing, providing her "first 75 to100 performance opportunities," she told me — many as his opening act in coffeehouses. He also taught her the essentials of communicating to audiences.

When she was 16, she heard the Joni Mitchell track, "A Case of You," during one of the expository scenes of the movie Practical Magic, and was transfixed. Many have said that hearing Kipyn is the next best thing to seeing Joni Mitchell live in concert. With her velvety alto, she may be the best interpreter of the Mitchell calalog on the planet. Some have called her voice "the most pure voice I've ever heard." She currently tours with "recovering" opera singer Allison Shapira as a duo act, "Joan and Joni," a tribute to Joan Baez (Allison) and Joni Mitchell (Kipyn).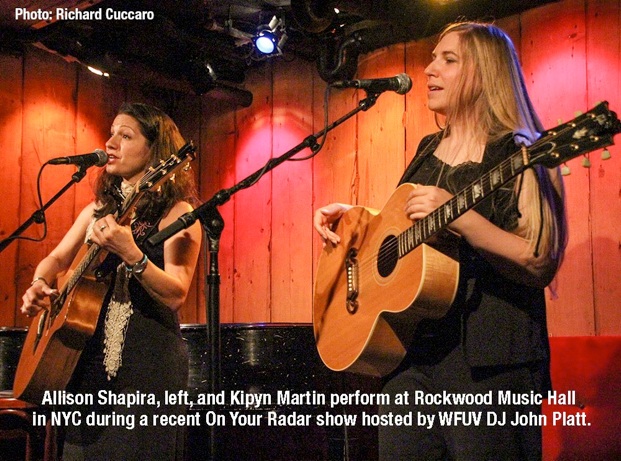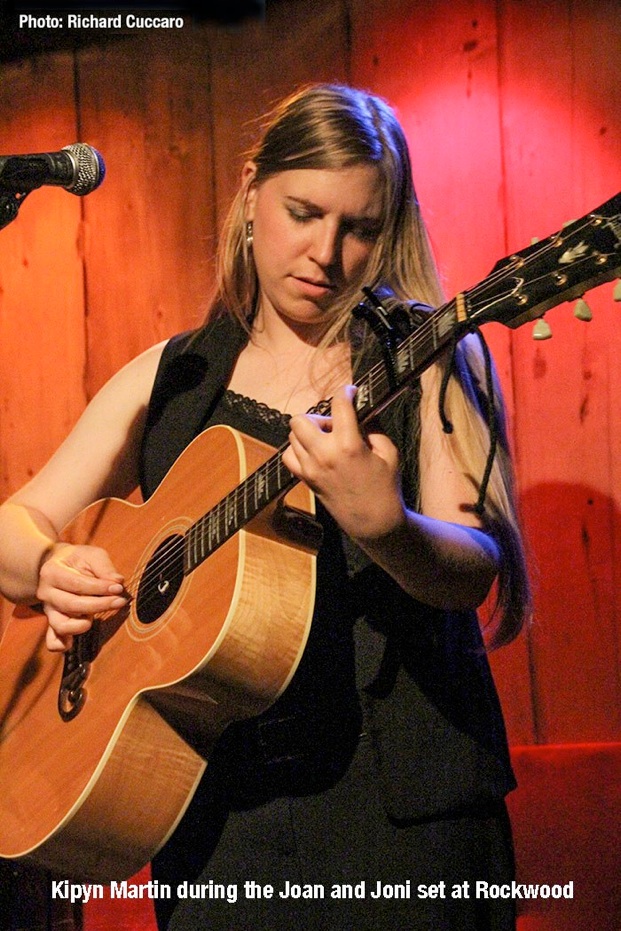 Classical Training

Kipyn won a scholarship to any state school, tuition-free, for four years. Initially unsure what to do with it, she knew it would have to involve music, so she opted for a degree in composition for the music connection. She learned the ropes of music theory at Shepherd University in Shepherdstown, W.Va. Dr. Georgiann Toole, a professor in the Education Department at Shepherd University whose specialty is music education, heard one of her compositions at a choral performance and offered Kipyn her first professional commission. They subsequently became close friends. She performed only occasionally with Pops Walker during her undergrad period.

Kipyn fell in love with music theory to the extent that she pursued a two-year Master of Music degree at Shenandoah Conservatory in Winchester, Va. During her graduate studies, she formed a duo doing covers one weekend per month and occasionally opened for Pops. She performed solo shows once or twice per month and developed a small following in the Mid-Atlantic area.

For a time, Kipyn struggled, trying to match up her view of herself, both as a singer/songwriter and a classical musician but it wasn't working. In her last year at Shenandoah Conservatory, she took voice lessons with Dr. David Meyer. He suggested that it was possible she might not be comfortable in the classical realm and in her very last semester offered to teach her in a contemporary vocal style. The shift came as a great relief and changed how she viewed herself as a singer.

The Schism

In 2010, due to family difficulties, Kipyn split away from her mother. The effect was shattering. The two people who helped Kipyn pull herself together and who came through as surrogate parents were Georgiann Toole and Pops Walker. Kipyn knew she needed people who would "have her back" in times of trouble. The song, "Undone," from her debut album is for them:

When I was tattered, fraying cord strewn in the gravel / You saw workable twine / When I had a wound split my heart, leave me to unravel / You said I'd be just fine / Won't you show me how / How weathered ends, they can wind into one / Won't you show me how to weave a circle from these lines / Show me to not come undone, come undone.

The Career

Kipyn released her first album, Undercover Muse, in February 2013 and it marked the official beginning of her professional career. She didn't know how to promote the recording, but began attending the Northeast Regional Folk Alliance (NERFA) Conference and learned a lot about how to conduct a radio campaign and other aspects of life as a performing singer/songwriter.

I discovered Kipyn for myself when she performed at the 2016 Falcon Ridge Folk Festival's Emerging Artists showcase. She was my pick for the best act. She has been chosen as one of this year's "Most Wanted to Return" and will perform with two other acts in that category at the festival this year. Acoustic Live in NYC has asked Kipyn to play at our booth in our unplugged showcases and she has graciously accepted. We've penciled her in for Saturday, Aug. 5 at 4:30 p.m., depending on her performance obligations at the festival.

Kipyn's most recent release is an EP, Dance Across the Sky (2017). My favorite track, "God is Love," stems from the biblical phrase, "Where there is love, God is there." The song proclaims a spirituality which emanates from the act of loving: God is love, love abides / And when we meet with the rejected / That our arms can open wide / God is love, love is kind / And when ideas steeped in fear close our hearts / We can open and change our minds.

The impact this young woman can have on an audience is considerable. We encourage our readers to witness a live performance, however and whenever possible. Buy her CDs and take her music home with you.

Visit her website at http://kipynmartin.com to find out where she's playing next.