It seems fatuous to label anyone "the next big thing," e.g., the "next Dylan" or "Joni," or whatever. Sometimes, though, it's an irresistible impulse. This latest impulse to confer monarchy status blossomed last year as I studied videos of artists unfamiliar to me while cataloguing the rosters of festival performers for our annual May festival issue. There are always great new discoveries. There was one waiting for me when I looked at the artists scheduled for last year's Long Island Bluegrass Festival. The two headliners read: Junior Sisk & Ramblers Choice and … Molly Tuttle. Wow — that velvety alto and those prodigious guitar chops! I'd never seen anyone apply a banjo clawhammer style to guitar before. The official video of her song "Save this Heart" provides an example. Molly's Wikipedia page states: "Molly Tuttle is a vocalist, songwriter, banjo player and virtuoso guitarist, recording artist and teacher in the bluegrass tradition, noted for her flatpicking, clawhammer, and cross-picking guitar prowess. In 2017, Tuttle was the first woman to win the International Bluegrass Music Association's Guitar Player of the Year award."

Press accolades include: "Molly Tuttle blew away the unsuspecting crowd with her rapid fire bluegrass guitar work that would put even the most talented shredders to shame. It was a marvel to see such incredible technical skill combined with a sweet voice and fun, barn-storming songwriting."

— Jonah, Write to the Beat 

"Molly Tuttle sings with the gentle authority of Gillian Welch, yet plays astoundingly fleet flat-picking guitar like Chet Atkins on superdrive."

— Paul Zollo, American Songwriter Magazine

Amen.

Origins

Molly Tuttle was born in 1993, the eldest child of Jack Tuttle, a bluegrass performer and teacher. Jack was an Illinois native whose father played banjo. Jack picked up the guitar, then fiddle, banjo and mandolin. He relocated to Palo Alto, Calif., south of San Francisco, where Molly was raised. Taught by her father, Molly began playing guitar at age 8, and at age 11 played onstage with him. At age 15, she joined her family band, The Tuttles, with AJ Lee, another female bluegrass prodigy (mandolin). Molly also had learned banjo at this point. Her two brothers, Sullivan (guitar) and Michael (mandolin) are also in the band. The San Francisco area has a thriving bluegrass scene where Molly received encouragement and support. In 2006, at age 13, Molly recorded The Old Apple Tree with her dad, an album of duets. The Tuttle siblings were hard-working and gifted. An early video of them playing a jazz/bluegrass version of "Lady Be Good" is astounding. Django Reinhardt would have been pleased. Molly has always had an adventurous streak. "When I was growing up, I was exposed to a lot of different musical styles. I always chose what I wanted to learn. When I was in middle school, I played electric music and punk," she is quoted.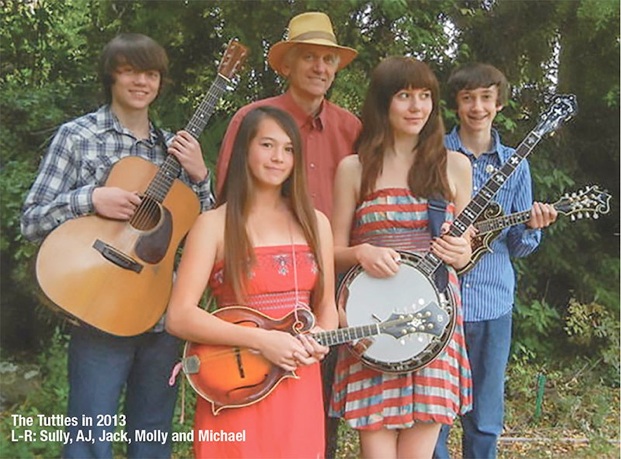 In 2011, the Tuttles self-released their debut album, Introducing the Tuttles (feat. AJ Lee), and the Endless Ocean album in 2013.

In high school, the music of Gillian Welch made an impact that changed how Molly viewed what was possible in the bluegrass realm. She went to songwriting camps and workshops where attendees used prompts given to them to create songs.

Molly had a banner year in 2012. She was awarded merit scholarships for music and composition to the Berklee College of Music in Boston. Her focus was in guitar and performance. That same year she received the Foundation for Bluegrass Music's first Hazel Dickens Memorial Scholarship. She also won the Chris Austin Songwriting Competition at the Merlefest Music Festival, was named Best Female Vocalist and Best Guitar Player by the Northern California Bluegrass Society and appeared with her dad on A Prairie Home Companion.

Berklee and Beyond

While at Berklee, Molly studied with guitar teachers whose backgrounds were in jazz, blues and classical, so her knowledge and range expanded.

She also met three other crackerjack musicians and formed the group The Goodbye Girls. They are Molly (guitar and vocals), Lena Jonsson (fiddle and vocals), Allison de Groot (banjo and vocals) and Brittany Karlson (double bass and vocals).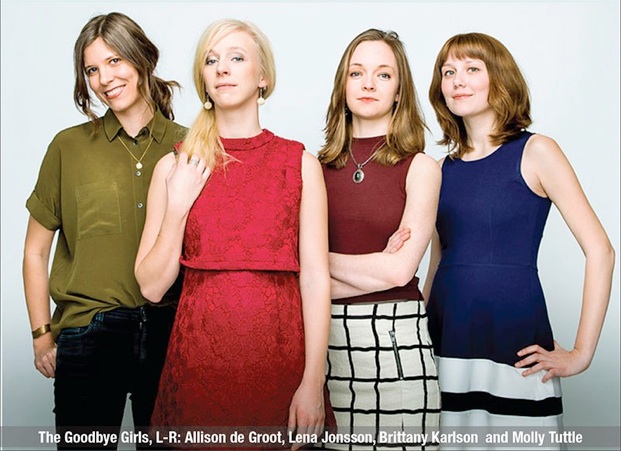 Their website states: "The band has a dedication to honoring the musical styles in which they are rooted, and together they are re-imagining the repertoire in a unique and exciting way. Their original material sits comfortably between a raging old-time tune, a traditional bluegrass song

or a Swedish polska in a playful balance between new and old."

Lena is from Sweden, which might explain the group's presence at the Stockholm Folk Festival on their first European tour. However, judging by their performances in the videos of "Black Eyed Suzie," "I've Always Been a Rambler" and "Lost Girl," their hellacious chops could be entirely responsible. They released their debut EP, Going to Boston, in 2014 and their follow-up full-length CD, Snowy Side of the Mountain, in 2016.

Molly moved from Boston to Nashville in 2015. These days she plays solo or with her own quartet, The Molly Tuttle Band, which includes Wes Corbett (banjo), Joe K. Walsh (mandolin) and Hasee Ciaccio (bass). 2017 was a pretty big year for Molly. She was awarded the IBMA Awards Guitar Player of the Year, she appeared on the cover of Acoustic Guitar magazine, she signed with Compass records and she released her solo debut album, Rise.


I realize that Acoustic Live in NYC readers have other things to do with their lives than watch videos recommended by others. However, once I look at one Molly Tuttle video, I want to see another, then another, then another. They can be addicting. At more than 2 million views and counting, a lot of people share my weakness. With our readers' indulgence, I'd like to point out a few of my favorites.

"White Freight Liner" — Molly with fiddler John Mailander — In 2014 the eponymous Molly Tuttle and John Mailander EP was released. In this 2015 video she gives a clinic in crosspicking while singing the bejeezus out of this Townes Van Zant song. John's fiddling is terrific.

"Rain and Snow" - This slower number showcases the purity of Molly's tone and the fine control in her voice.

"Gentle On My Mind" — Molly's oft-requested version of this John Hartford song made famous by Glen Campbell is compelling by virtue of Molly's perfect vocal and her blistering attack on the guitar fret board.

"The Girl In My Shoes" — This video has a clarity of sound that is breathtaking. Molly's singing retains its usual perfection, as does her guitar work. I've not seen the use of the clamp holding the iPhone on the fret board before, used to capture the picking hand up close. The simultaneous video is shown in a split-screen frame next to Molly singing. There's an instructional break in the middle I could've done without, but after all, it is intended to be  an instructional video. Nevertheless, the singing section makes me squirm with ecstasy.

"Little Sadie" — Molly is still a teenager in this video. It might be a better example of the clawhammer style than the first one cited. It's riveting.

"Walden" — This song, performed here with the Tuttles, was written by Molly in high school and won the Chris Austin songwriting competition at Merlefest in 2012.

"Guitar Gathering" YouTube Channel: Feb. 20, 2018 installment — For readers who have the time and interest in flatpicking techniques, this hour-long interview with Steve Krenz from Gruhn Guitars in Nashville was conducted a little more than a week before publication of our March issue. Molly plays and sings and answers questions about techniques texted from viewers watching a live-at-the-time stream. It reveals in-depth tidbits about Molly's growth as a musician.

I hope I've managed to introduce Molly Tuttle to a few people. Whether or not she becomes widely recognized as the "Queen of Bluegrass," she's already there in my mind and heart. I'm gambling that there will be a sizable number of people who will agree with me.

Learn more about Molly at her website: