I received a late email last fall, requesting a slot for Sophie Buskin in the Acoustic Live guerrilla showcase room at the Northeast Regional Folk Alliance (NERFA) conference. I had already chosen my lineup and had to put her on the "waiting for bailout" list. No bailout materialized and I didn't have the heart to bump any of my chosen showcasers, so I wasn't able to accommodate the request. However, sharper minds among NERFA organizers chose her for a semiformal showcase slot. I was in the room — my first time seeing or hearing her — as she opened her set with "Sweet Creature." It was as if, from the viewpoint of this 76-year-old author, I was watching a child paint a masterpiece. (video) She reminded me of Suzanne Vega. The lyrics were so wise, laced with sly humor, and the melody was so different and surprising. She sang: You should stay here tonight / You're much too handsome to drive / And as much as you're killing me, sweet creature / you know how to make me feel alive … There's a space between the unsaid and the unseen / between old and young / between the two of us / I will meet you there / because sweet creature I could never bear to leave you … I was stunned.

Enter regret. The Acoustic Live showcase room missed a great one.

Parental success in the entertainment field is no guarantee of a talent transfer to offspring. The name Frank Sinatra Jr. does not call forth memories of vocal excellence. In the case of Sophie Buskin, the genes have won out. She's intelligent and hugely talented. Her track record is not extensive — yet. She's still growing and working on her first album. Nevertheless, we are eager to offer our support and cheer her on.

Origins

Sophie Buskin was born in 1990 and raised in New York City, the only child of brilliant singer/songwriter David Buskin (Buskin and Batteau, Modern Man) and actress/singer/screenwriter Abra Bigham.

Many in the singer/songwriter community remember that David Buskin successfully wrote commercial jingles for radio and TV (e.g., "The Heartbeat of America"). Sophie, at age 4, was in the studio, singing on some of those jingles. She started taking piano lessons around this time as well, studying mostly classical music. Sophie was devoted to her piano teacher and when she passed away after a struggle with cancer, Sophie turned away from the piano for a while.

A Conflicted Choice

Sophie could be termed "compulsively creative." Many hours had been spent during her younger years in her own bedroom drawing and painting as well as making music. When she went to LaGuardia High School, she auditioned for both voice and visual arts. Only one focus area was allowed. At the time she thought visual arts was a safer financial bet (!) and chose that over singing. At around 13 or 14, her father gave her a guitar and showed her how to form chords. She started with Beatles songs. When her father showed her how to tune down to open D, fingerpicking entered the picture and Sophie began composing songs. She took lessons from Joe Giglio, a jazz player, and learned to play through mistakes. Sophie still wasn't comfortable writing songs so she focused primarily on visual arts. Pulled in opposing directions, she received two hours of studio training at LaGuardia each day — drawing and painting — then went home and practiced guitar.

Turnaround at Berklee

Sophie felt that she missed music and wanted to make it a bigger part of her life, so after high school, she went to Berklee College of Music in Boston in 2008. She left school and returned to New York City in 2010 to get a clearer picture of her musical direction and to earn some money.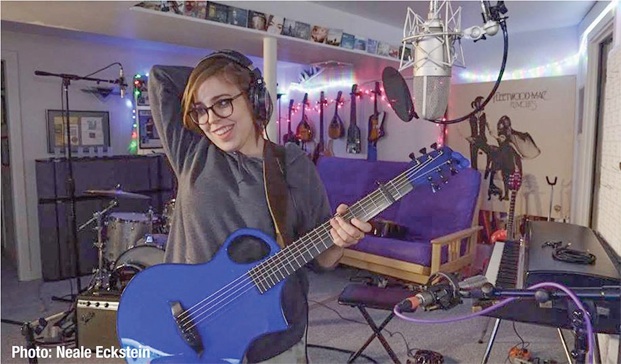 About six months after getting back to New York, she started collaborating with her father. Sophie had been very shy and wasn't comfortable doing much more than singing backup and hadn't finished but a couple of songs. She played snippets of things she'd written and David provided affirmation, saying her material was really good. They started holding one-on-one songwriting sessions in 2011. Sophie had never collaborated with anyone before. She and her father have different influences and writing styles, but began generating "some pretty cool stuff," Sophie said. She also got better at writing solo. Modern Man and Buskin and Batteau were on hiatus, and Sophie grew more relaxed about performing, so in 2012, David and Sophie got serious about performing as a duo entitled "Buskin." A playful video of the first song they wrote together, "New to Me," can be seen here.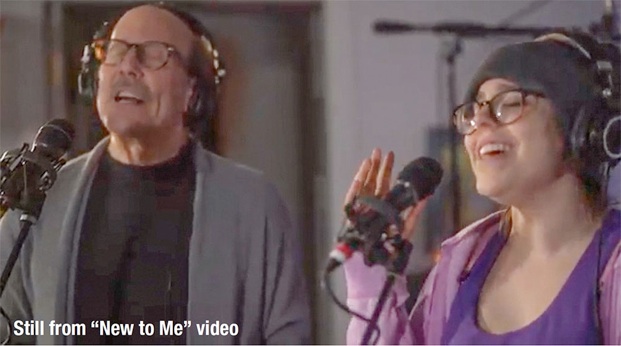 They've been performing together for the last five years. Sophie told me: "He's my best friend. What is it like to perform with him? It's the best! It's my favorite thing to do."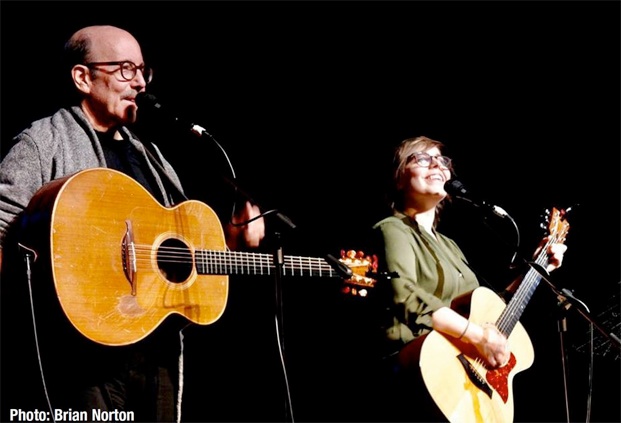 Sophie is still driven to create visual art and has plans to post her jewelry and miniature paintings on Etsy and Instagram.

Currently, both Sophie and David are performing solo more and together only sporadically. Sophie is recording her first album produced by Neale Eckstein of Fox Run Studio and Steve Jagoda.

She'll be opening up for Too Many Lauras at the The West End Lounge in Manhattan on April 3rd. She is also appearing at Rockwood Music Hall (Manhattan) on April 13th and at the season finale of the First Acoustics Coffeehouse series in Brooklyn on May 19th with a host of other artists in a benefit for the people of Puerto Rico (see our listings). Check her website for other appearances.

We expect Sophie to be around for a long time and to continue adding great songs to her portfolio. Don't wait, though. See her soon and see her often. You'll want to catch every stage of her career as it unfolds. And you can rest assured … the harvest of the Buskin family tree, though it rises high and reaches far, will remain close in talent and intelligence.

Website: www.sophiebuskinmusic.com

Sophie's talent exhibits a boldness and a wide-ranging choice of subject matter.