Playing the songs of Creedence Clearwater Revival under the band name Creedence Clearwater Revisited, Stu Cook has traveled and traveled and traveled some more around the world during the past 25 years.

Cook, both groups' bassist, and their drummer Doug "Cosmo" Clifford are throwing in the towel and retiring after this year's concert tour through November.

"Doug and I are 74 years young," Cook tells me. "Realizing that there's far more sand in the bottom of the glass than the top, we decided that, while we could play until we dropped dead, it would make far more sense to spend our golden years doing things we've put on the back burner for the past 24 years."

It's been quite a run for Cook and Clifford who are members of the Rock & Roll Hall of Fame. With John and Tom Fogerty, they played the 1969 Woodstock Festival, and many Creedence songs have become classics worldwide, known by multiple generations.

The acrimony among the members of the band, which began playing under the Creedence Clearwater Revival name in 1968, also has gotten plenty of ink. Tom Fogerty departed in late 1970, and, two years later, the three-member Creedence broke up with Cook and Clifford going their separate ways from the band's principal creative force — lead singer, lead guitarist and songwriter John Fogerty. There's still friction when the breakup is discussed.

In July 1971, several months after Tom quit the group, I saw my first concert — a triple bill with Bo Diddley, Tower of Power and Creedence at Forest Hills Tennis Stadium in Forest Hills, New York. I remember leaving that show with a mind blown by the power and greatness of Creedence's songs — right from the opening song, a blistering version of "Born on the Bayou." John Fogerty's swampy, snarling vocals cut through the stadium like a knife, and the rhythm section of Cook and Clifford chugged along like a well-oiled machine.

"That turned out to be our farewell tour, although we didn't know it at the time," Cook says. "Doug and I loved having Tower of Power on the bill. Creedence was the first artist to expose Tower of Power to a national audience."

Cook says he doesn't have a favorite Creedence album — "I like them all" — but Bayou Country, the group's second album, "captured our sound the best."

His three favorite Creedence songs are "Someday Never Comes" — "John's best, most real song" — "Born on the Bayou" — "the groove explains it all" — and "Down on the Corner" — "when played correctly, it swings hard."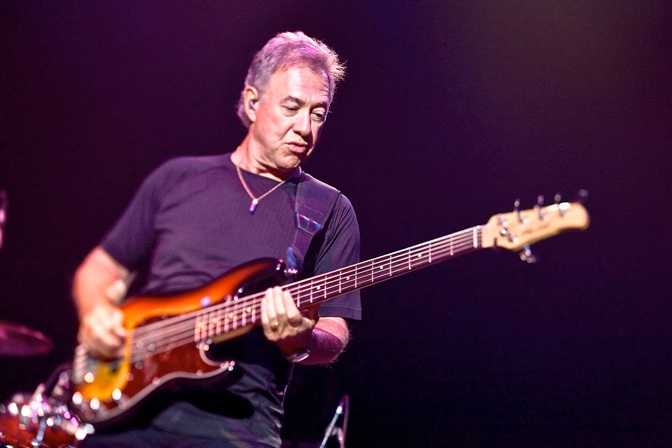 I ask Cook to explain his role in the early development of Creedence's music and sound and how that role may have changed when the band became universally popular.

"Creedence Clearwater Revival was functioned as a band before we became successful," he responds. "There was a lot of group learning, trial and failure, re-inventing, suffering and unstoppable drive. We were focused on trying to become successful.

"Once we achieved some success, the group dynamic started to change. John increasingly took control of most aspects of the band, and that unavoidably caused the band to split internally — three versus one. John wasn't very good at explaining, so, to the rest of us, it looked ego-driven, which added to the growing distance between us."

In a 2014 interview with grammy.com, the website of the Recording Academy's Grammy Awards, Fogerty said he did everything he could "to share with the other guys" and attempt "to appease everybody's ego."

Creedence's final album, Mardi Gras, released in April 1972, was the final nail in the band's coffin. For the first time, Cook and Clifford wrote and sang their own songs, and the three members dispute why that occurred.

"It was a half-baked project," Cook says. "Neither Doug nor I wanted to write or sing. This was John's idea of democracy — telling us what we were going too do, while he threatened to quit if we didn't agree. I call it leading from behind. With hindsight, the album could have been avoided had we refused his demands, but neither Doug nor I were ready to give up the band we'd worked so long and hard to make successful.

"The idea that Creedence fans would want to hear someone other than John write or sing still escapes me. I told Fogerty that this was a bad idea. I believe he heard me and understood, but his plan was to stuff the band's internal issues in our faces and teach us a lesson."

Fogerty told Rolling Stone in 1976 that the band's break-up was caused by the other members' demands that power be distributed more equally. He told grammy.com that he initially resisted the desires of Cook and Clifford to write songs and sing, but he eventually relented, and then the band broke up after Mardi Gras was released.

After the Creedence's breakup, years of lawsuits followed involving Fogerty, the other band members and Fantasy Records President Saul Zaentz who controlled the publishing rights to Creedence's songs.

In 1993, Creedence was inducted into the Rock & Roll Hall of Fame, and another well-publicized confrontation between Fogerty and Cook and Clifford occurred. Fogerty refused to play with his former bandmates that night and instead played Creedence songs with Bruce Springsteen and Robbie Robertson.

"His behavior the evening of the Rock Hall of Fame induction was immature but survivable," Cook tells me. "It was supposed to be an evening celebrating the achievements of Creedence, but he couldn't resist turning it into the John Fogerty show. Ironically, as depressing as that evening was, it probably helped to plant the seeds for the Revisited project. My viewpoint of the evening hasn't changed over the years. It was an insult and another attempt to punish us."

Fogerty gives his view of that night in his book Fortunate Son: My Life, My Music. "The truth was, they had turned their backs on our group, dishonored the music and sold out to Saul Zaentz, taking money and making a side deal that didn't include me," Fogerty says in the book. "I didn't want to get into that, but they acted to the public like they were victims, playing for sympathy! It was phony."

Cook and Clifford recruited lead vocalist John Tristao and guitar wizard Elliott Easton, who had played in the Cars, and they launched Creedence Clearwater Revisited. They were an exciting live band, strictly doing covers of Fogerty-penned Creedence songs with Easton's guitar-playing pizzazz thrown into the mix.

I ask Cook whether Revisited's years with Easton, 1995-2004, marked the strongest live version of the band.

"Hey, all versions were strong, just a little different," he responds. "Elliott added great guitar playing, an outrageous sense of humor and musical credence to Revisited. The Cars were a world-class band, and Elliott brought his American musical roots connection to our party. We were as good as any band playing. Our current guitar player, Kurt Griffey, was another lucky find. He's taken the music to new heights while giving a tasty nod to Elliott's work."

I ask Cook how the sound of the band has changed since its first tour and why he and Clifford have not written their own songs. Revisited released only one live album during its 25 years.

"To my ear, the sound hasn't changed, as much as our approach to it has," he says. "The music keeps morphing ever so slightly but never to the point that the we need to pull it back. Our founding premise was to celebrate and honor the music of the Creedence Clearwater Revival quartet, so adding to the great legacy was always out of the question."

What are the most incredible moments, I ask Cook, that come to mind when looking back at 25 years on the road with Revisited?

"My favorite musical experience was the first time Revisited played at Luna Park in Buenos Aires," he answers. "The audience completely drowned out the band, and it got better from there."

August is the 50th anniversary of the Woodstock Festival, so I ask Cook for his memories of that landmark even in music and American history.

"It was truly amazing to helicopter in over the audience — hair and teeth forever," he says. "Backstage was a total contrast to the concert the audience experienced. Steaks, great French wine, good weed, etcetera. Weather interfered, the production became iffy and the evening was several hours behind schedule. We played well. The next night we had an audience of 5,000 — a big letdown after nearly 500,000. Woodstock was a once-in-a-lifetime event. All efforts to recreate it are doomed."

Aside from its Woodstock appearance, Creedence Clearwater Revival recorded and performed music that forever carved out an important place in rock and roll history. I ask Cook to best describe his and Clifford's contribution.

"Doug and I do pick and shovel work," he says. "We work in the trench known as the groove. We laid it down deep and wide. The rest is up the fans and critics."