The great Irish playwright George Bernard Shaw once said, "We don't stop playing because we grow old. We grow old because we stop playing."

Watching the fiery live performances of Savoy Brown's Kim Simmonds, there's no concern about him slowing down after his 72nd birthday Dec. 5. Simmonds and his bandmates — bassist Pat DeSalvo and drummer Garnet Grimm — are an absolute blues-rock steamroller on stage.

"Mentally, I don't feel my age," Simmonds tells me. "Plus, I never have let myself get a lifestyle that is overly comfortable. I like to work hard — it's a reason to exist.

"I look at performing as a way to tell the truth," he adds. "That's what blues and real rock 'n' roll is about — honesty. I just get on stage, and let the audience see what joy guitar playing gives me."

Simmonds, who many decades ago began performing on Wednesday nights at the Nag's Head pub in south London and then founded Savoy Brown in 1965, has never gotten the acclaim he deserves. He is an exciting, extraordinary electric guitarist and underrated lead singer.

I mention to Simmonds that I put his guitar-playing skills on the same plane as those of Eric Clapton, a major influence on Simmonds in the 1960s.

"Thank you for the compliment," Simmonds responds. "You do try to shoot for the stars. I always thought my best guitar playing was when I was first touring the USA in 1969.  I have put in intense practice and evaluation into my playing and style recently.  I think that has brought my playing back to my 1969 level."

Regarding comparisons with his contemporaries and guitar players before his time, Simmons says, "I hold dearly in my heart the players that influenced me.

"Do I compare?  That's for others to assess.  I do think and have been told that I hold a special place in many of today's listeners' hearts.  That makes me feel good, of course.  I also think I have achieved what I set out to do — be an influential player."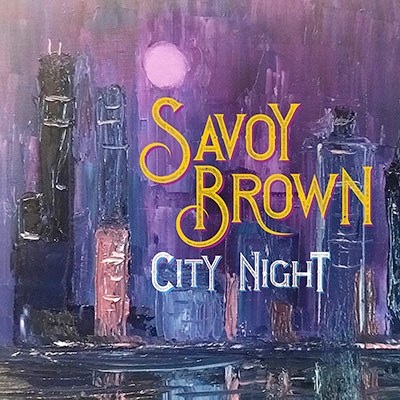 Though live is the best way to experience the power of Savoy Brown's music, the group's most recent album,
City Night
, released in June, is full of scorching blues-rock songs. The album cover is Simmonds' painting of a city skyline.
"The concept of the album is from the title song, and the minor key approach to the songs suggested a night-in-the-city vibe," he says. "The album is a continuation from Witchy Feelin' (Savoy Brown's 2017 album), building on the renaissance I seem to be going through."

Savoy Brown has gone through many rebirths since its founding, with many line-up changes and Simmonds going in and out of lead-vocal duties.

"In the '90s, my singer (Nathaniel Peterson) left the band to pursue a solo career, and I started auditioning new vocalists," says Simmonds, who now lives in Oswego, New York. "I rehearsed another singer and realized I was tired, at that point, of coaching and having vocalists in the band. I decided to put the work into myself and do the singing. I've been getting better at it, but it's taken awhile!"

Which Savoy Brown lineups were the hottest?

"I think the first band lineup was special, and it's a shame harp player John O'Leary quit," Simmonds says. Other members of that band were bassist Ray Chappell, keyboardist Trevor Jeavons, drummer Leo Manning, lead vocalist Brice Portius, as well as Simmonds on guitars, keyboards, harmonica and vocals.

Simmonds also points to the band's 1967-1970 years, when English blues singer Chris Youlden was the lead vocalist.

"The Chris Youlden lineup was incredible — great talent throughout the lineup," he says. That phase of Savoy Brown featured various musicians, including Dave Peverett, Roger Earl and Tony Stevens, who would later form Foghat; drummer Bill Bruford, one of the founders of Yes, and keyboardist Bob Hall.

After Peverett, Earl and Stevens left for Foghat, Simmonds recruited lead singer Dave Walker and members of Chicken Shack to join Savoy Brown. They recorded one of the group's most highly acclaimed albums, 1971's Street Corner Talking.

"The Street Corner Talking band was one of my favorites —terrific cohesion," Simmonds remarks.

The current lineup has also "grown into an absolute powerhouse," he says. DeSalvo and Grimm joined the band in 2009, and, with Simmonds, Savoy Brown has been a three-piece band since 2013.

I ask Simmonds which Savoy Brown albums are the nearest to a masterpiece.

"That's difficult to answer," he responds. "Perhaps Raw Sienna (1970), Street Corner Talking, Witchy Feelin' and, and…"

Simmonds has enjoyed many concerts by other artists whose recordings have been called masterpieces by critics.

He recalls an "amazing" rock concert in the 1960s by Jerry Lee Lewis, as well as another "amazing" one in 1969 by the Who, when Savoy Brown was the warmup group.

He also cites great concerts by Freddie King at the Nag's Head; Albert Collins in Los Angeles in 1969; Sarah Vaughn; Buddy Rich; Jimi Hendrix "at a small New York City club just before he died"; the Yardbirds at London's Marquee Club "when they started, and, many years later, the Clash at the same club.

"I could go on forever," Simmonds says. "Recently, I saw the blues artist John Primer, a genuine Chicago guitar. The Goo Goo Dolls on the pop-rock scene have great songs and are a no-BS rock band. Joe Bonamassa puts on a stellar show. I enjoy listening and seeing many, many acts, but nothing knocks my socks off like artists in the '60s and early '70s."

What are the three best albums Simmonds has listened to?

"I could give a different answer to this question every day," he responds. "Today, it's Freddy King Sings — it showed the future of guitar. Ditto for Lonnie Mack's The Wham of That Memphis Man! Ditto for Memphis Slim's At the Gate of Horn. I got my tone from Memphis Slim's guitarist Matt Murphy."

Though Savoy Brown has an extensive catalog and recently released a new album, Simmonds isn't about to rest on the group's laurels.

"I have the next album written," he says. "It's just a question of tightening up the songs, figuring out when to have the next release, coordinating studio time, etcetera. We have rehearsed most of the songs, but I don't want to do that too much. I'd like to keep some spontaneity."