I will always look back with awe at the night of Dec. 8, 1975. It was the "Night of the Hurricane" in New York City and my first Bob Dylan concert.

Madison Square Garden was packed that night with music lovers anxious to see Dylan's gypsy caravan called the Rolling Thunder Revue, performing at a benefit concert aimed to help free jailed boxer Rubin "Hurricane" Carter. Dylan didn't disappoint, delivering a powerful, raw performance that would finally be released in a two-CD set in 2002.

Much more of the legendary Rolling Thunder Revue tour recently came to light with the June release of a 14-CD set and a new Netflix movie, Rolling Thunder Revue: A Bob Dylan Story by Martin Scorsese.

"The Rolling Thunder Revue was the best two-month party I've ever been to," Dylan's friend and Rolling Thunder band member Roger McGuinn tells me.

McGuinn, who is better known as the co-founder and leader of the Byrds, was one of many musicians accompanying Dylan on the tour. Others included Joni Mitchell, Mick Ronson, T-Bone Burnett, David Mansfield, Scarlet Rivera and Ronee Blakley, as well as three musicians officially billed with Dylan on concert flyers: Joan Baez, Bob Neuwirth and Ramblin' Jack Elliott.

Before arriving in Manhattan for the "Night of the Hurricane," Dylan's troupe had received lots of publicity while touring New England, western New York and three Canadian cities. The tour was a ramshackle affair with concerts announced at the last minute and held primarily in small venues and gymnasiums.

An eclectic cast traveled on tour buses with the musicians, including poet Allen Ginsberg; freelance writer Larry "Ratso" Sloman, who would later document the tour with his book On the Road with Bob Dylan; actor/playwright Sam Shepard, and a film crew shooting a movie that would be called Renaldo & Clara. Dylan sometimes got behind the wheel and drove the bus.

Between shows, stops were made at Jack Kerouac's grave in Lowell, Massachusetts; Chief Rolling Thunder's Tuscarora Indian reservation in Niagara County, New York, and a penitentiary where Rubin Carter was imprisoned near Clinton, New Jersey.

"Traveling with the Rolling Thunder cast and crew was really a pleasure," McGuinn recalls. "Phydeaux was the first rock and roll bus I had ever seen. It was a custom motor home with a suite in the back where Joan Baez lived, bunks for the band in the middle and couches in the front with a galley."

McGuinn fondly recalls the music played during the tour. "The music was art, as opposed to what would be deemed commercial," he says.

The tour was "an offbeat, weird underground medicine show," Baez told Sloman in his book.

For McGuinn — whose playful duet with Dylan on "Knockin' on Heaven's Door" is spellbinding in Scorsese's movie — the tour stops in Toronto and Montreal were the most special.

"I think Toronto stands out because of the great party at Gordon Lightfoot's house where Joni Mitchell, Dylan and I jammed," he says. "The second was Montreal where Joni, Ratso and I had dinner at Leonard Cohen's house where he served sake as an aperitif. Joni and Leonard discussed songwriting using colors."

The "Night of the Hurricane," though, was the best concert of the tour for McGuinn. "The show at Madison Square Garden was the most exciting!" he exclaims. "It was a large venue, and there were a lot of celebrity guests such as Muhammad Ali, Dick Cavett and Candice Bergen."

Dylan started his set with a rough, yet mesmerizing, version of "When I Paint My Masterpiece." Many other highlights followed: The Band's guitarist, Robbie Robertson, joined him for "It Takes a Lot to Laugh, It Takes a Train to Cry;" Dylan practically spit out the words to a vicious hard-driving version of "Isis" and, amidst domestic troubles with his wife, Sara, that would lead to a divorce two years later, he sang his beautiful ode "Sara."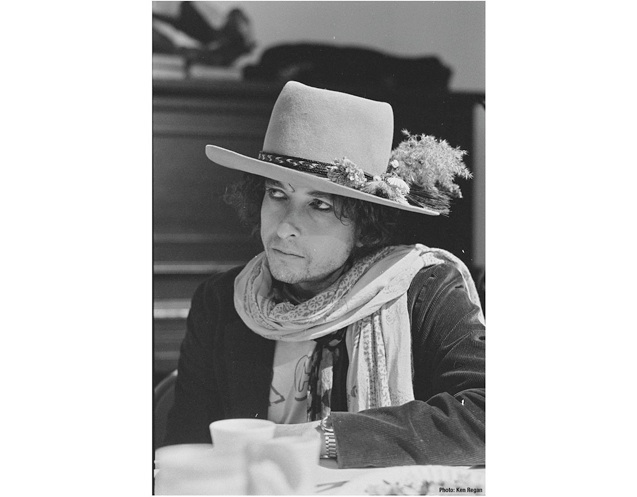 The 1975 concert stood foremost in my mind until a magical, historic performance 15 years later when Dylan took the stage for a rehearsal at the small Toad's Place club in New Haven, Connecticut. It was Jan. 12, 1990, and there were no celebrity guests this time — just Dylan and his band. It was a tune-up for an upcoming European tour, and the venue was reportedly chosen because the Connecticut city was the hometown of G.E. Smith, Dylan's lead guitarist and Saturday Night Live band leader.

Dressed in a red sweatshirt, sipping mixed drinks and playing electric guitar on all but one song, Dylan did something he had never done publicly and has never since come close to repeating: four one-hour sets and a total of 50 songs. Unlike today, when he doesn't utter a single word throughout his concerts, he spoke between songs, was as loose as I have ever seen him on stage and appeared to be having one hell of a time.

He played many cover versions of songs that were not in his live repertoire, including Bruce Springsteen's "Dancing in the Dark," Joe South's "Walk A Mile in My Shoes," Muddy Waters' "Trouble No More," Kris Kristofferson's "Help Me Make It Through the Night, and Charles Segar's and Bill Broonzy's "Key to the Highway." And he played his own songs that he rarely has performed live, including "I Dreamed I Saw St. Augustine" and "Where Teardrops Fall," as well as the Traveling Wilburys' "Congratulations."

The 50th song was, fittingly, "Like a Rolling Stone," ending the concert with a driving, electric version of the classic that helped define the Sixties Generation.

I recall leaving the club wearily after standing for about 5 1/2 hours — there were no seats and Dylan took a break between every set — and wondering whether my legs would last another second. The club was overcrowded, the air was thick with people and heat, much of the floor was sticky from spilled drinks and, all night, you couldn't risk losing your vantage point by going to the bar for a drink.

It was the best Dylan show I have ever seen.