Maybe I shouldn't have been surprised, but I was when Rickie Lee Jones opened her new all-covers album, Kicks, with the song "Bad Company."

Owning her recordings and seeing many of her off-the-wall-but-still-sublime concerts through the years, I knew that she is the opposite of conventional. And I am familiar with her many unexpected, yet effective, past covers, including the Rolling Stones' "Sympathy for the Devil," David Bowie's "Rebel Rebel" and Traffic's "Low Spark of High-Heeled Boys."

But, for probably unexplained reasons, my brain wires went haywire when I heard Jones's voice replacing original Bad Company singer Paul Rodgers on the British band's self-titled 1974 song. I was only knocked off the ledge for a few moments, though, because the Rickie Lee magic quickly seeped in. I realized that I liked her cover version much more than the original, the third single off Bad Company's debut album.

Jones tells me it's simple why she decided to cover the song: She likes it and likes an unexpected choice.

"Defying the genre thing is important to me," Jones says. "I never did accept genres. My early success was all about doing different styles on my stage and making them work. It opened the door for a lot of older artists to be able to do jazz or something like it. Now even Rod Stewart has done a jazz record. So, for me, a jazz singer doing rock and pop, it's meant to remind people that a singer is here to sing to all, not to sing to one type of person."

Her cover of "Bad Company" is "heartfelt," she says, and the last vocal she recorded for Kicks.

"I did not set out to bring something new per se," Jones explains. "I just know that, by doing it my way, it will be new. I am a different person, a different voice, a different sex — and it's a different time. I played some mean guitar, and so did my guitar player. We felt like gunslingers, and I like how that song lets me be a bad, bad girl."

Other songs on the 10-track album of rock, pop and jazz songs from the 1950s-1970s include Elton John's "My Father's Gun," America's "Lonely People," the Steve Miller Band's "Quicksilver Girl" and Louis Armstrong's "Mack the Knife."

"'My Father's Gun was another shady thing," Jones says. "I am not a huge Elton fan. I like his first record, but it was all so derivative of the Band.  Nevertheless, they (Elton John and Bernie Taupin) were good songwriters who made some moving music."

The word 'gun' is "a terrible and dubious word for us now," Jones says, "with so many Americans out of their minds murdering Americans in cold blood everywhere you go."

Her aim, she says, was for a soldier at war to say, "Okay, dad, I have your gun, and I'm gonna break it apart."

Jones says that's how she carries her father's gun. "My daddy actually broke all his guns just before he died, so my relationship with this subject is intense."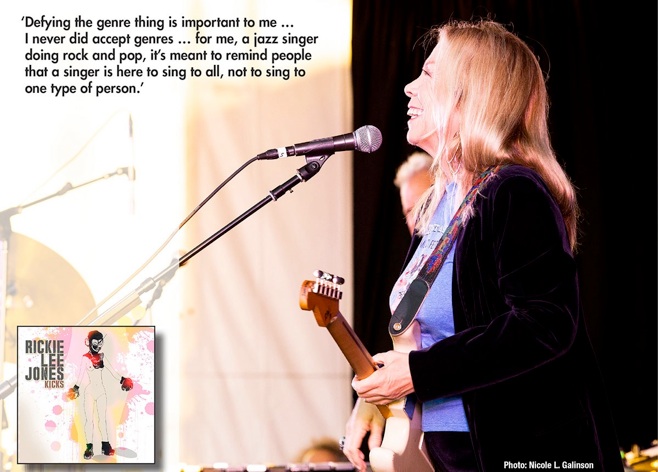 America's "Lonely People" has probably been played too often on the radio through the decades, so I ask Jones why she chose to cover the song.

"Well, lonely people were on my mind," she responds. "I thought it is a simple, overlooked song. But the heart of it is a very true message — no message really except to acknowledge that there are a lot of lonely old folks out there who waited a long time. I wanted to say, Don't give up. As soon as I recorded it, I met somebody. So go figure."

Jones produced Kicks with her band member and vibraphonist Mike Dillon, and it was recorded in New Orleans with local musicians. She says her aim was to create a Southern feel throughout the album and calls it "all-New Orleans."

I ask Rickie Lee what concert she attended had the best feel — the best show she ever witnessed. She seems to enjoy the question.

"Oh, that's wild," she responds. "I woke up today and asked my boyfriend that question. Oh, that's crazy. He liked Sun Ra.  My answers are not so clear."

Then Jones points to a John Prine gig in Los Angeles in the mid-1970s at the Troubadour or the Roxy; Tom Waits at the Pantages Theatre in Los Angeles in 1977 or 1978;  Frank Sinatra with Sarah Vaughan at the Universal Amphitheater in Los Angeles in 1978, and a Van Morrison show in Ireland in 1986.

"I just can't pick one — except maybe the very first one was the best: Simon and Garfunkel in Phoenix in, I think, 1966. 'Best' is just too malleable. Is it that moment how I felt or in the long run how I felt? Or is it the quality of what I heard?  It could have been a tango band in Buenos Aires or James Booker in New Orleans. There is not a way to say best in my case."

Jones answers unequivocally when I ask her which concert she attended most influenced her as a singer and a musician.   

"I saw Oscar Brown Jr. play in L.A. to about 30 people," she says. "He was a great writer. He came out and smiled and gave a loving, professional show.  And I thought: This is it, this is the heart of performance. He had no ego, no shame, no thing like that. He was old — he deserved better.  But I took away so much from that show. It was a good show but a great moment: what it means to be a professional.

"Sinatra gave me that, too. I saw him and thought everyone is safe in his hands. He knew just where he was going. We were with a professional and how great that feels. That's what I want to be. Of course, I am that. But I also am a little bit unpredictable — professionally unpredictable!"

Website: https://www.rickieleejones.com