New York based singer-songwriter Brian Cullman vividly remembers what he believes was the best performance of Rua das Pretas.

It was mid-November in Lisbon, Portugal, last year, and he was playing with the weekly gathering of local and visiting musicians known as Rua das Pretas at their usual venue, the Palace of Príncipe Real. The musicians blend various styles of music at their performances — bossa nova, fado, samba, blues, folk and jazz — while celebrating Lusophone (Portuguese speaking) culture and drinking Portuguese wine.

"It was so full that no one could get in, and a horn section — sax, trumpet and trombone — pushed their horns in through a window along the side wall and began playing along with us," Cullman recalls.

"Imagine the P-Funk of fado and samba — that's what it was like. For a moment, for an hour, for an evening, the whole world was made of music, and the distance between the players and the audience was swept away. We were playing each other, and the song was Lisbon."


Pierre Aderne, who leads the group and plays guitar and percussion, has other unique memories of that night.
"Brazilian Marilia Schenuel was singing beside me, Brian Cullman, Tanner Walle and more musicians and started breastfeeding her 6- month-old daughter," says Aderne, a Brazilian who moved to Portugal in 2007 and once lived on a street with the name Rua das Pretas. "We could see the Tejo river by the window, and there was a sense of community music, friendship and true love."

Aderne estimates that more than 140 musicians — including artists from America, France, Cape Verde and other African countries — have come to play at the weekly gathering during the past few years. Six to 15 musicians usually play at each performance.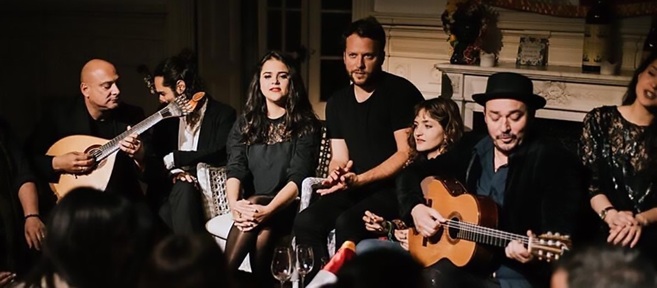 Portugal winemaker Dirk Niepoort, whose family's wines have been produced in the country since 1842, supplies wines for the musical gatherings. Niepoort and the musicians released a tasty, mellow debut album of love songs entitled Rua das Pretas last year that's sold as a download online, streamed on Spotify and available as a CD in some wine shops and wine bars in California and New York.

"Rua das Pretas takes an experience that is private and privileged and makes it accessible to the public in a protected and creative way," Cullman says. "It lets people deep inside the process of collaboration and allows our weaknesses to show. But, as someone pointed out, in weakness is your strength, and we wind up going beyond what we can usually do and into new and really exciting territory.

"Have you seen the Dylan documentary of the Rolling Thunder Revue?" Cullman asks. "It's a lot like that — a constant sense of discovery and reinvention."

Cullman, who has recorded two solo albums, says he stopped going to music clubs for a while, because he felt he was seeing "packaged" shows with musicians simply going through the motions. Those shows were a disappointment compared to the Jeff Buckley shows he attended in New York many years ago.

"I was used to seeing Jeff Buckley trying out new songs every night at Sin-é," Cullman says. "Some nights a song would roll over and lie there like an old dog, but the next night that same song would sparkle like a thousand diamonds. So you had to pay attention, because you never knew what was going to happen."

Playing with Rua das Pretas during the past few years, "the music hasn't really changed, but the sense of camaraderie has deepened, and we're more and more comfortable taking chances in front of each other," he says. "We don't need to impress each other now, and we can enjoy our differences. Every time we get together, it's like a homecoming."   

His home in New York, though, brings to mind the best concert Cullman ever attended.

"One New Year's Eve years ago, I was wandering around on my own feeling blue and noticed a small handwritten sign on the door of St. Peter's Church on Lexington Avenue: '10:30 p.m. CECIL TAYLOR FREE CONCERT.' It was 10:15. I walked in. There were 13 or 14 others there — a mix of jazz fans, retired postmen and churchgoers, all spread out in various pews. There was a Steinway grand set up on the altar.

"At 10:30 sharp, Cecil Taylor appeared, sat down and began playing with cheerful gravity. The music was so small at first that it seemed like it was in miniature — like a ship inside a bottle — but slowly grew until it filled the church to overflowing, and the joy was contagious. People were laughing, and the sound kept expanding until we could hardly stand it. A few minutes after midnight, Taylor stopped for a moment, took off his sunglasses, bowed his head and said. 'Happy New Year!' And then he continued playing."

Cullman has another special story about a concert that most influenced him as a musician.

"When I was in college, I heard about a university in Switzerland with 24-hour music studios, libraries and painting spaces," he says. Allen Ginsberg, RD Laing, Ornette Coleman and John Cage were set to teach there. I made my way over there only to discover it was bogus — there was no college, there were no teachers, it was all a dream in progress.

"I needed to get back to the States, but it was going to take some wrangling, and I wound up waiting for passage back at a cheap hotel in Sion. It was beautiful but desolate — just a few mountain trails covered in snow and a sleepy cafe that served cheese fondue. The second day I was there, Leonard Cohen showed up alongside a scientist named Immanuel Vellikovsky and a small camera crew. A Canadian television station was making a documentary on Vellikovsky and had gotten Leonard Cohen to interview him.

"They shot the footage they needed in the afternoons, and, at night, we gathered in the hotel lobby, and Leonard played guitar for us. He tried out new songs, added verses to old ones, slowed them down or sped them up. Sometimes he sang, sometimes he whispered. But it didn't matter. You'd hang on his every word. He was letting us in on a conversation he was having with himself. I learned how powerful the right words and space — and silence can be. I learned that, if you light the right candles and set the right mood, the spirits you summon will show up and fill the room. And I learned that Swiss girls are easily bored."