For this author, a major source of discovering players unfamiliar to me is the Northeast Regional Folk Alliance (NERFA) Conference. On Friday, Nov. 10, 2017, I wandered through the rooms presenting semi-formal showcases, balancing between seeing new work by old friends and seeing artists for the first time. One of the times I struck pay dirt was the showcase featuring Celtic singer/songwriter Dave Curley. The first thing I noticed was his voice. He reminded me of Nick Drake. It was a silken, seemingly flawless baritone. I knew instantly I'd want to write a feature article about him. I enthusiastically wrote about his debut album, A Brand New Day, in the CD review section of our December 2017 NERFA wrap-up issue. I was excited to present an in-depth look at a young, distinctive Irish singer/songwriter and had no idea of the scope of his pedigree.

Origins

Dave Curley was born in Corofin, County Galway, in 1987. He was one of four siblings — an older sister and two younger brothers — who all learned music in primary school and performed in school shows. While the others still dabble in music, Dave is the only one who chose it as a career.

The way Dave described it, elementary schools in Galway double as Irish music academies. He began playing an instrument at 4 or 5 years old. He was just starting elementary school when he saw two brothers at school playing bodhran (pronounced "bow-ron") and banjo and an early musical drive kicked in. The Irish tenor banjo was too large for him, so Dave asked for a bodhran for Christmas. It arrived on schedule. In school, he learned how to play the bodhran and, in addition, Irish dancing. He took extra private classes outside school. When he was around 8 or 9, he performed as a dancer with the local troupe, Siamsa na Gaillimhe ("Fun in Galway"). With the troupe, he traveled to Italy, France and the Philippines and realized how music could enlarge his world. He performed locally with the troupe during summers, entertaining tourists.

Dave continued his dance studies throughout elementary and high school. During the early 2000s, he took fourth place in the World Irish Dancing Championships several times.

After graduating high school, Dave continued to follow a musical path. He studied at the University of Limerick, earning a bachelor's degree in Irish Music and Dance. He studied tenor banjo as a primary instrument and guitar as a secondary instrument. Whether he knew it or not, he was ready for something special to happen. And it did.

The Turning Point

In 2008, the band SLIDE, already an established band in Ireland, played a show in Limerick. Dave and another banjo player were the opening act. "We had a 45-minute set. That's probably a bit too much banjo for an audience, so I decided to sing a song," Dave said. It happened that the band was looking for a singer just before an upcoming American tour. Daire Bracken, the energetic fiddle player for SLIDE, liked what he heard and approached him. Dave recognized opportunity knocking and promptly joined.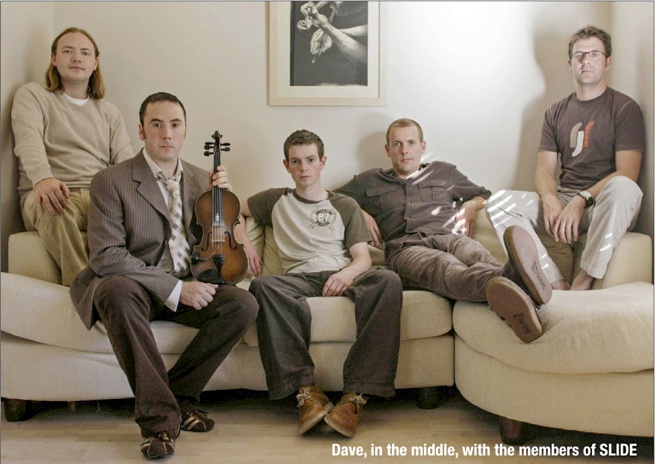 SLIDE had just achieved the equivalent of a major league baseball team signing the best professional utility player straight out of the grapefruit league. "I was a little bit on the deep end on the singing, but I grew into it," Dave said. He spent four or five years full time with SLIDE. An example of what he brought to the band can be heard here, on the mesmerizing track "The Bird." Additionally, some SLIDE videos on YouTube show the manic Daire Bracken bouncing and fiddling and Dave Curley demonstrating his Irish dancing skills.

Around 2011 or 2012, with increasing family obligations, SLIDE pared back on performing. Éamonn de Barra, the flute player in SLIDE whose brother Fionan de Barra plays guitar for the band RUNA, introduced Dave to the band. RUNA used more improvisation than SLIDE and Dave found it fun and challenging.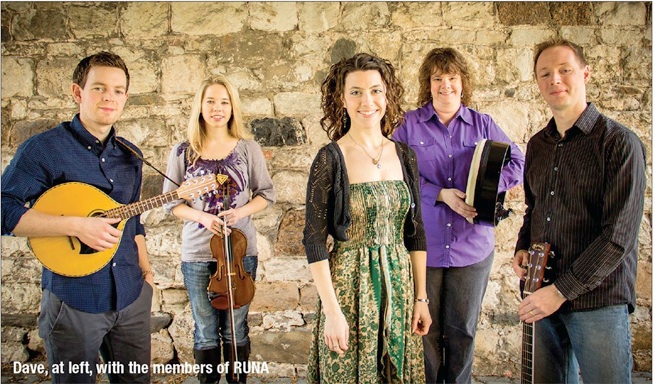 After five years and four albums with RUNA plus 10 years and two albums with SLIDE, although primarily a soloist, Dave still plays for them as opportunity arises.

One of Dave's projects is his work with Mick Broderick, who accompanies him on A Brand New Day. Mick is the bouzouki player for SLIDE. He and Dave hit it off immediately when Dave joined the band and their collaborative tendencies obviously have continued.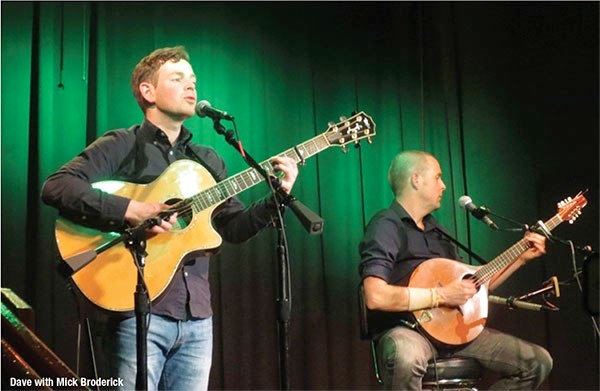 Recently, Dave joined the Crannua Collective, which seeks to produce newly composed music in the traditional style. The group includes John Doyle (Solas), Mick McAuley (Solas), Colin Farrell (Lunasa), brothers Cormac (Voices and Harps) and Éamonn de Barra (SLIDE), American singer/songwriter Ashley Davis, Cathy Jordan (Dervish) and Clannad vocalist Moya Brennan. Dave co-wrote four songs with Ashley, three of which will be included on an upcoming album tentatively called The Crannua Collective.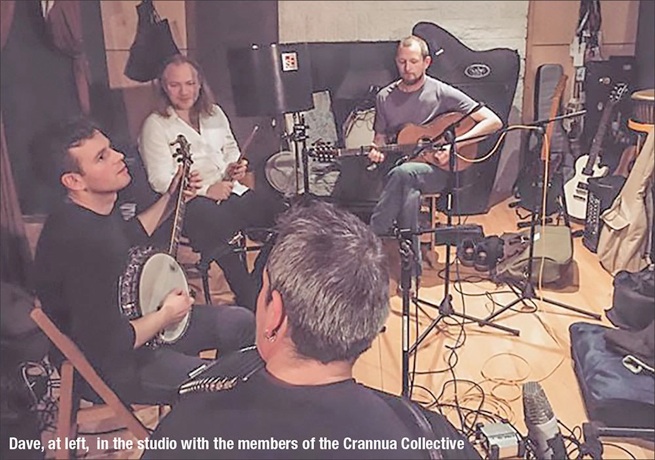 Musician and studio engineer Aisling Jarvis (daughter of Moya Brennan) recently wrote on her Instagram page: "It's always a pleasure to have incredibly talented musicians in the studio! Trad supergroup Crannua were in the studio recording with me this week, and you can expect a cracking album from them coming soon!"

Stay abreast of what's happening with rising star Dave Curley at his website: http://davecurleymusic.com