Tripping Lily 

The Sound of Four Hearts Beating as One

by Richard Cuccaro

It was around mid-August of 2009, and as an invited judge, I was listening to CDs submitted by artists vying for formal showcase slots at the November Northeast Folk Alliance convention.

I had nearly completed assigning points to 90-plus artists at that point (it would swell to 105). On the database page, after the column on the left with the artists' names and the scoring column, was a column for adding comments to share with the other judges. One of the very few I'd written a comment for was Tripping Lily (they'd gotten perfect score of 10 from me). It read: "Gorgeous harmonies, beautiful melodies."

As I was to find out later, this was a gross understatement. Ultimately, however, the other judges found others more worthy and Tripping Lily wound up as an alternate, barely missing a chance to play in the formals. They were a shoo-in, though, to play in one of the semi-formal, or "Tricentric" showcases. Less auspicious, the rooms are smaller than the formal showcase theater and compete simultaneously with two other nearby rooms also presenting artists.

When conference time rolled around, I was eager to see them in person. At the tricentric showcase, I made sure to get a front-row seat in order to get photographs. Before the first song, I noticed that the demeanor of one of the two male lead singers was deadly serious. He was physically wiry — whippet-like, and his face looked like that of a soldier readying himself for battle. When the first notes were struck and the harmony began rolling from the mouths of all three lead vocalists, the effect was totally opposite of that first visual impression. The bittersweet melody and seamless blend was

ethereal and sublime. Demetrius Becrelis (the serious one), his brother Alex, and Monica Rizzio, backed by Laird Boles, were weaving their singular magic. The nearest comparison to anything heard before would be Nickel Creek or Chris Thile's solo work. A heady mix of bluegrass, old-timey and pop music poured from Dimitrius on guitar and ukulele, Alex on mandolin, Monica on violin and ukulele and Laird on upright bass. Demetrius, Alex and Monica switched lead and harmony vocals and Laird provided backup.

Now, I was even more disappointed that they didn't get to play for a

theater full of attendees. I hoped that enough people would see this blazing vortex of talent to ensure that their conference appearances (guerrilla showcases included) would bring in many new performance dates and a sizeable career boost.

It was hard to switch away from their newest CD, The Day Everything Became Nothing, to listen to CDs by other artists to do reviews for the Acoustic Live December NERFA wrap-up issue. I'm still listening to it, almost non-stop. We saw them again in late November at a show at the Hillside Cafe in New Jersey. After the show we agreed on a January feature. In mid-December, from NYC, I called up to Cape Cod where they live, for their respective stories.

Meet the Band

Dimitrius Becrelis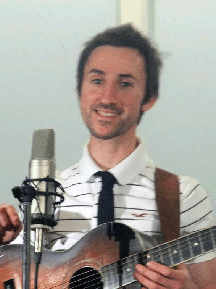 Although it would be difficult to imagine the group without any one member, its history seems to be the evolution of a sound long sought and organically grown by one Demetrius Becrelis. When Demetrius was just an infant, his grandmother looked into his mouth and, noting the shape of its interior, said, "He's going to be a good singer." How right she was.
Demetrius' father played piano. He'd play old songs — Bing Crosby, Andy Williams material. Demetrius got his first electric guitar at the age of 8. He'd been impressed by the scene in the movie Back to the Future where Michael J. Fox plays a chord on an electric guitar and gets blown off his feet by a shock wave from an exploding amplifier. "I wanted to feel that," he says.

His first influence from a commercial source was Michael Jackson's Off the Wall album. From there he got into Stevie Wonder and more Motown sounds. He loved to sing and did it all the time. He learned songs from CDs using a call and response method, singing lines back, immediately after they played. When he learned guitar, he used the same method, playing the melody notes as each song played. After a year of this -- around 9 years old -- he decided to sing along with the guitar, so it was time to learn about chords. He learned them two notes at a time. Figuring out that a note two positions lower than the melody note was in harmony, he formed chords. Never looking at a chord diagram, he built chords until they were three and four notes in structure. Fiercely independent, he didn't want to know how other people approached music. He wanted to get to know it on his own terms.

Through high school, he played rock 'n roll and pop music in several bands. Never wanting to be without his guitar, he brought it to school every day and played it every chance he got. It was mainly electric. Although he'd gotten an acoustic, he wasn't totally ready to make use of it. Then, at around 17 or 18, he decided to take a different path, away from the music and bands he played rock n roll with. A James Taylor Greatest Hits album provided an introduction for the changeover to acoustic music. The guitar intro to "Something in the Way She Moves" lit him up like a Roman candle. He suddenly viewed reverb pedals, overdrive pedals, amplifiers, volume knobs and anything else digital as superfluous and wanted things to be completely analog. He dug out the acoustic guitar and began listening to things more deeply, both for lyrics and the craft of singing. An ensuing interest in vocal excellence and a wholesome-ness of content led to an immersion in pop-tinged country. Demetrius got gigs in restaurants singing covers by artists like Garth Brooks, Kenny Chesney and Randy Travis. After a couple of years, feeling isolated in his musical choices, he  decided to relocate. A big turning point came when he heard Alison Krauss's award-winning first album with Union Station. He read the list of Nashville musicians in the liner notes and it pointed the way to Tennessee. Next stop, Nashville.

Demetrius took off in August of 2000, right after his 20th birthday. He had just enough money to get there, hitching a ride with a friend. He dropped into The Broken Spoke, a songwriter's hangout he'd heard about. Part of a older hotel, it was worn around the edges, a bit seedy.

During his first week, he walked down Broadway, the most commercial strip. Speakers pushed sound out of every music venue. He heard Mindy Smith's voice coming from the Gibson Cafe. Entranced and drawn to it out of all the other sounds, he went in, took out his camera, and made a video of her performance. He still watches it today. They talked after the show and found that they had both arrived there the same week and were both from up North, each missing family and friends. He moved around Nashville, expanding his circle of contacts and influences and catching Mindy's shows often.

Demetrius was two years into his Nashville period, playing at the Broken Spoke, when Monica Rizzio wandered in with some of her friends. She was new in town and Demetrius  offered to help her learn about clubs and songwriter circles. They got together a week later and began writing and singing together. He became fascinated with mandolin after hearing Chris Thile play the opening to the ethereal song "Sweet Afton." He went to the Gibson factory and watched them build acoustic instruments, specifically mandolins, for hours and finally had to buy one.

He began missing home more and decided to return. His brother Alex had begun playing music and Demetrius wanted to join him. He returned home to begin a new chapter.

Alex Becrelis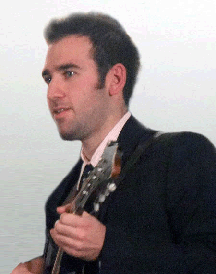 Alex started playing the piano at the age of three. Without formal training he wrote melodies on his own. He watched Demetrius play guitar most of his life and also took in all the music that Demetrius was listening to. His parents got him a set of drums when he was seven or eight. He played rock n' roll until he was ten. Music as a major interest didn't really hit until he began playing an acoustic guitar that Demetrius had left behind. He played steadily all through high school, having by then become a huge fan of country music. "Country" became his nickname among his friends at school. When Demetrius came back from Nashville for a visit, and brought a mandolin, Alex was 16-17 years old. He loved it and began to play mandolin steadily. By the time Demetrius moved back for good, Alex was ready for some serious collaborating with his brother.
Monica Rizzio

Monica was born in New York. Her family moved to Quitman, Texas when she was five years old. This was where she grew up. She started singing in church, then became more involved at school in chorus and band. She sang at state fairs and rodeos. During this time she played flute and "a little bit of piano." She got a scholarship to study music at Adelphi University in New York. She studied there for two years and then decided that she needed something a bit different than what was offered at Adelphi. She moved to Nashville to attend Belmont University (2000-2003) and completed her studies for graduation there. She studied Commercial Voice and began playing guitar and violin and began songwriting.
She met Demetrius in her first month in Nashville. Demetrius and Monica became a duo during her time at Belmont and they played around Nashville. She finished her 3-year stint at Belmont and, missing the East coast scene, went to back to New York. Later she was persuaded to join Demetrius and Alex on the Cape.

Laird Boles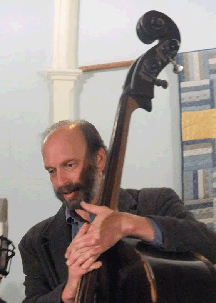 Laird Boles was born and grew up in Cambridge, Massachusetts. In Laird, Tripping Lily gets to tap into a very deep well of wide-ranging experience.  As with Demetrius, his father played piano, As Laird described it, he "played the 'American Songbook." Laird began taking classical piano lessons at 7 years old with a woman in the neighborhood who was in her mid-80s. He took lessons for about five years, until she passed away. Laird liked her a lot and although he wanted to continue with lessons, he couldn't find a teacher he liked afterward.
Laird got into drumming when he was around 11 or 12 years old. He'd drum on everything, thumping on a table with his bare hands if there was nothing else available. He set up his own homemade set in the living room and would beat rhythms out with pots, pans, kettles and a basting brush. His parents finally bought him an abandoned trap set from a cousin and sent Laird and his drums to the basement.

In elementary school, other pursuits beckoned. He sang bass in chorus. His chorus director, also an art teacher, played cello.The teacher would demonstrate the structure of music by playing cello and by having students listen to recordings.

In high school, Laird was still singing bass in chorus. There, he encountered another great mentor, also his chorus director. The director was a church organist who gave recitals at various churches. Whenever needed someone to turn pages at a recital, Laird jumped at the chance. Additionally, Laird was the drummer for a rock band.

Music, for Laird, was a serious hobby, but not yet a vocation. At the University of Virginia, where he attended college, he majored in International Relations and minored in teaching. Again, the choral director became a mentor. However, it was another member of the chorus who provided a life-changing stimulus. The other student played bass for the chorus and wanted to switch to  violin. He suggested that Laird take over at bass.Believing that his experience as a bass singer was good preparation, Laird agreed to do it. He assumed correctly, taking to the bass immediately. That was just the spark that lit the bonfire. The other student also played fiddle in a bluegrass band. Laird had never heard of bluegrass and asked him what it was. "The 'Jed Clampett theme' from 'The Beverly Hillbillies' is a bluegrass tune," came the reply. Not only did Laird then grasp the nature of bluegrass; he also joined the band as its bass player.

Throughout college, Laird continued playing in rock bands and extended his enjoyment of singing as part of an A Cappella group (he'd also sung in an A Cappella group in high school).

After college, Laird taught junior high school for eight years -- Working in Foreign Service didn't pan out. He also continued playing in various bands and singing in yet another A Capella group. At this point, jazz crept into his repertoire. As a teenager, an uncle had interested him in this genre, playing records by artists such as  Errol Garner, Thelonius Monk, Duke Ellington and Dave Brubeck. He began playing in a group with a drummer and pianist. Laird states that, thanks to the collaborating jazz musicians, he spent 11 years "learning the American Songbook." At another point, while at a jazz gig in a restaurant accompanying a pianist, he met Dimitri (more on this shortly).

The Emerging Band

When Demetrius returned home, suddenly and mysteriously, his singing voice disappeared. He wouldn't be able to sing again for a year.

He focused on his instrumental skills, playing both mandolin and guitar. His collaboration with Alex evolved into them performing as a duo on mandolin. Alex was doing the singing and Demetrius could hear that he was adding something new to the music. Demetrius realized they needed more vocals and that something special might be possible so he persuaded Monica to come up from New York and join him and Alex. "I had this vision of what I wanted the music to sound like and it was getting closer and closer. I thought it was worth trying to stack their vocals." The three started performing material from Demetrius 's and Monica's co-writing in Nashville. Monica stopped playing guitar at that point and focussed more on writing parts for the violin that she'd play. Demetrius wrote violin parts for her as well.

A big part of the evolution of the group's sound comes from its instruments. Monica wanted a new violin and, after doing some research, came up with Martin Brunkalla a violin-maker in Chicago. She ordered a violin and when it arrived, it's voicing was "different" somehow and fit the group's music perfectly. Demetrius called Martin and asked him to make a mandolin. Pushing past Martin's protests that he only made violins, Demetrius persuaded him to make a mandolin using the same wood as Monica's violin to achieve a similar sound. What the mandolin arrived, the same thing happened. Its voice fit the group's sound perfectly. Alex then ordered a mandolin for himself. Martin began hand-delivering the instruments, driving from Chicago. Demetrius, perceiving that his guitar was now the only instrument out of sync, then boldly persuaded Martin to make a guitar for him using similar woods as the other two instruments, looking, sonically, for another perfect fit. The band was now one instrument and one member away from completion.

Alex states flatly, "The band happened the night we played with Laird." The day before the guitar was to arrive from Chicago, Dimitri and Alex were doing their mandolin duet at a place called the Island Merchant. That night, Laird Boles walked in. Demetrius had met him long ago when he was a long-haired, 15-year-old heavy metal musician working in a restaurant kitchen where Laird was playing in a jazz duo with a pianist. Typically bold, he and another band member walked out of the kitchen and asked to jam with Laird and the piano player. The pianist was adventurous and agreed. Afterward, Demetrius wished that he could play with Laird, but knew we wasn't ready at that point. He never forgot Laird, always thinking, "Why can't I find someone like that to play with?"

Seeing Laird again, Demetrius re-introduced himself and jumped at the chance to play with him again. He said, "There's a bluegrass jam happening tomorrow night. Will you come and play with the group?" It took Laird a minute to recognize, in the close-cropped musician facing him, the long-haired youngster he'd met only once around 14 years ago. He agreed, and the next night, Tripping Lily was born.

The guitar arrived on schedule that morning, so all the instruments were ready. That night, though he didn't know it, so was Demetrius. Monica, Alex, Demetrius and Laird moved to a private room to see what they'd sound like together. Demetrius  began to demonstrate a song he'd written to show Laird its rhythm. Laird asked him to sing it, and Demetrius explained that he simply couldn't. Laird convinced him to give it a shot. When all the instruments and voices kicked in, Demetrius was so thrilled to hear the sound he'd been imagining for so long become a reality, that he was swept up in it, carried along to the end. When it was over, Monica said, " Demetrius… you sang!" A mental block had somehow lifted. Demetrius' year of silence as a vocalist was over.

The band began playing out, getting noticed, but still didn't have a name. People would ask them what type of music they were playing, so they could describe it to their friends. There were no easy answers. A listener, prodded to respond to his own question about style, said, "It seems like you're tripping over styles. You start in one, then change to another." The band combined that definition with the lily that was inlaid in mother-of-pearl on the headstock of all their Brunkalla instruments and they had their name. The band feels that Martin Brunkalla is the fifth member of the group. They all agree that without him there would be no Tripping Lily.

A couple of years ago, Demetrius bought an old ukulele, fixed it up and began playing it. Monica began playing it, then got some of her own. This sparked a surge of songs written for ukulele accompaniment in just over a month's time. They made a video as a duo out on a Cape beach near home and posted it on YouTube. The brought responses from ukulele enthusiasts and uke festivals. One in particular, The Mid Atlantic Ukulele Festival, asked them to come down as headliners. They quickly recorded a CD in their own living room and called it UkuLily." As of today, it has completely sold out and is only available as a download. The ukulele has become an integral part of the group's sound. Martin Brunkalla has made ukuleles for the band. Monica also owns one made for her by Mike DaSilva of California. California and has ordered her own Tenor Freedom Top Brunkalla Ukulele that should arrive sometime this year.

The band has achieved a high level of seamless blend. Alex describes the genetic edge the band enjoys: "When you're working on original material, it can be difficult to get what you want from an accompanist, especially rhythmically. Playing with Demetrius is like playing with no one else. Our right hands move so much in synch, there was never any effort with that. We never had to discuss it. We look at each other on stage and we know what we're going to do." Then, on the synchronicity with the others: "The parts I come up with on mandolin are so affected by what the bass parts are going to be. We're not related to Laird or Monica, but we have the same connection to them musically that we have to each other. There's an unspoken communication between all of us."

That communication reaches across to Tripping Lily's audience as well. We urge our readers to experience them live. They're unforgettable.

Website: www.trippinglily.com

Upcoming Gigs include:

Jan 8  Outpost in the Burbs, Montclair NJ  opening for Lucy Kaplansky

Feb 6   Blue Moon Coffeehouse, Rockland, MA

Mar 13   Creekside Cultural Center Lenhartsville, PA