Danielle Miraglia

A Writer Inside These Blues

By Richard Cuccaro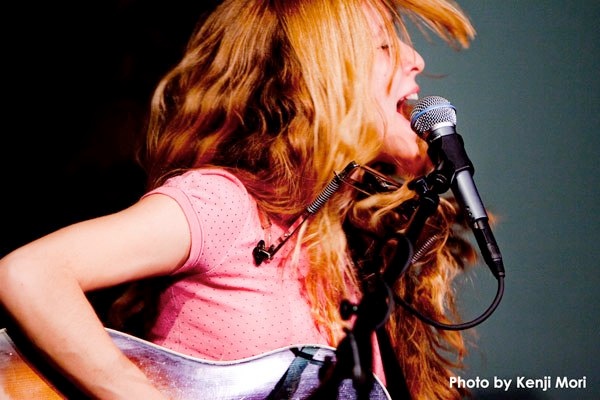 A blistering version of "Stagger Lee" occurs seven tracks deep into Danielle Miraglia's most recent album, Box of Troubles. The notes come fast and hard. The thumb pick on the bass strings is like a jackhammer, insistent in its driving urgency. The tempo is faster than I've ever heard it before, but it seems right. Her voice is strong and expressive with a whiskey-stained authority, peppered occasionally with a raspy growl, as she sings: Police officer, how can it be / You can arrest everybody but cruel old Stagger Lee? That bad man, cruel Stagger Lee … Her slide guitar sets up an ominous drone.

So it is that Danielle Miraglia puts her own stamp on "Stagger Lee." Of course, it's not her own composition, but surely a cornerstone of her repertoire. Tom Bianchi, her husband and producer on this album, uses an electric violin, a blues harp and a sinuous lead electric guitar with a wah-wah pedal to sustain the cloud of doom that hangs over this historic piece. Breathing new life into it, she continues: boom, boom, boom went the .44 / Billy DeLyon he was lyin' there on the floor… That bad man, cruel Stagger Lee. The second track is another searing blues number, but more contemporary. "Loud Talker" is a different kind of wake-up call to anyone not familiar with Danielle's gifts. The central character is a clinical case study, a composite of a certain type of temptress found in and around the bar scene: I'm no street walker / Just cause I'm rubbing up against this pole / My tight dress is for me alone / But, don't you want to take me home? Full of contradictions, this genus alcoholica presents a perfect opportunity for Danielle's astute observational and storytelling skills: Look at me, don't look at me / Look at me, don't look at me / Hold me… Hold me … Don't let me be lonely / I'm so lonely … Get off of me… Her husky alto, riding over the sound of her steady foot stomp, the lap steel, fiddle and lead guitar, packs an unforgettable wallop. The male of the species got off easy this time, but that doesn't mean she hasn't been watching.

An interview with this refreshingly affable, down-to-earth performer reveals how she became the player and writer she is today.

Beginnings

Danielle Miraglia [murr-al-ee-ah] was born in Malden, Mass. Her family lived in Everett until she was 8, then moved to nearby Revere, where she grew up. She has a younger brother.

She always loved music. Her earliest memories as a listener include The J. Geils Band, The Cars and Michael Jackson. She credits two older boys, her upstairs neighbors, in helping to add to her musical knowledge. The first album she ever owned was the Rolling Stones' Tattoo You. During her pre-teen years, she'd sing along to music with her friends. "I was a big ham," she said. "I'd lip-synch along to The Go-Gos and put on shows for my parents." Although she didn't play an instrument until later, she'd still make up "ridiculous songs."

Somewhere around 10 or 11, she tried playing the piano and singing, but it didn't take. As kids will, she and some friends tried to form a band, even though no one actually played an instrument. Danielle had a Casio keyboard; a friend's father played guitar, so it was assumed that he'd show others in the group how to play their instruments.

Danielle actually wrote songs for the band. Years later a friend dug out the lyrics to songs that she'd written. Striking a familiar theme, she said, laughing, "They were like, very cheesy love songs."

The First Guitar

Danielle's first guitar was an electric. She took a couple of lessons from the aforementioned friend's father who was going to teach her friends to play their instruments. She learned from books, by ear and from other friends who played.

Danielle's experience on the electric was prototypical teenage stuff. She'd get together with friends and participate in basement jams. One friend was learning bass; other friends played drums. They did a mix of covers and original songs. Danielle and another friend, Brenda, who Danielle said, "has a twisted sense of humor," would write songs with ridiculous lyrics. "It was your typical riff-heavy repertoire" she told me — basically garage band heaven. Danielle took no lead singing role at this point. She was content to just play rhythm guitar with a few lead patterns thrown in. She tinkered around with some acoustic fingerstyle guitar while in high school, copying selected songs by Randy Rhodes and the band, Heart.

This went on through high school. During those years,, Danielle had her hand in "a lot of different arts," she said. There was drawing and painting and there was writing, which she excelled at. She wrote stories and poems and won awards for essays on the environment and "Say No to Drugs."

The Writing Bug

After graduation, she went to Emerson College in Boston to study writing. She thought about becoming a novelist. There were writing courses of every kind, including journalism, children's writing and poetry. We discussed favorite authors. For Danielle, they included  John Irving (for his humor as well as his dramatic flair), Tim O'Brien (Vietnam War novelist, not the bluegrass performer), satirist David Sedaris and Lorrie Moore ("humorous and poignant short stories" — Wikipedia). However the world views her as a blues singer, she's well-prepared for original songwriting.

While her musical aspirations took a back seat during her college career, there was still some dabbling. Using an acoustic guitar, she'd get together with a friend back home to play and write songs.

When Danielle left Emerson, she felt lost for a while, describing herself as "unfocused." She wasn't able to translate a degree in writing into meaningful employment.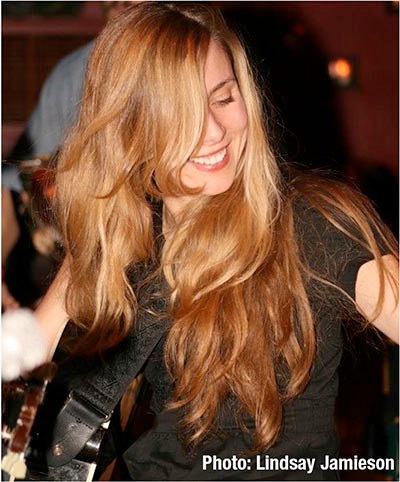 The Post-College Blues

She had worked as a secretary throughout college, and then a bit more after she graduated. From an interview Danielle did with BostonBeats.com, we learn: "I was working at the help desk, doing IT work, which wasn't horrible, but I was out of my element. I had a bad attitude — and I used to surf the net all day.  And they promoted me! It was weird, because I had a knack for Microsoft Office. They promoted me to Help Desk Trainer. I had some title I couldn't even pronounce. I would be putting together help desk manuals, and then I'd write a song about how miserable I was. Then I'd tell someone to re-boot their computer, which is usually the solution to every problem. I could go on and on. And then before that I was a secretary, which I really hated a lot.  Any office job. I would rather do anything than work in an office again."

Around the last year of her employment, she'd gotten heavily back into playing.

Arizona Epiphany

Danielle had a fantasy about moving to Arizona and starting a whole new life out there, getting a fresh start. She described it as her younger self in full-blown naivete: "I'm gonna go there… I'm gonna wear sundresses all day and write novels… It's gonna be beautiful and you live in the desert." She mentioned this to a friend who suggested they take a vacation trip out there. While the trip didn't result in a permanent move, it did provide a spiritual awakening. They saw the Grand Canyon and spent some time in Sedona. There was an epiphany of sorts in that they both realized life is too short to waste on doing things you have no love for. There was so much more in the world they hadn't thought about. When she returned home, Danielle began attending open mics, kick-starting what would become her career.

Open Mics

She started out with two songs she'd written and decided to see where it would take her. Her first stop was the open mic at The Kendall Cafe in Cambridge (now closed), just to "check it out." She saw people who were very advanced and some raw beginners. She figured, "OK, I can fit into this mix… I can pull this off." She signed up to play the following week and found that others were very polite, offering encouragement. She went back again and again and found "a whole new crew of friends." They were "on the same wavelength," she said.  "It was like finding my tribe. I just never looked back. Those are some of my best friends to this day."

Her first songs, coming off the dissolution of a relationship were (again) "cheesy breakup songs," she said. However, "They had grit to them." Although she cringes when she looks back on her early writing, she still feels that the songs weren't all that bad considering her level of development.

At that point, she was "writing a ton," and within about six months she enlarged her repertoire to six decent songs and another six months to beginning her first recording.

The Geoff Bartley Effect

Danielle admits that her singing style needed some major tweaking. She was a fan of the late Janis Joplin and would belt her songs out, Janis-style,without giving thought to vocal dynamics or microphone control. It wasn't until she got to the open mic of blues master Geoff Bartley at the Cantab Lounge that her mistakes were pointed out. At around her fifth or sixth time there, after introducing her, Geoff very gently suggested: "Think about drawing the audience into you rather than coming at the audience." That little comment changed me instantly," she said. It clicked and made all the difference in her singing approach. She realized that the "belting it out" approach was only effective at certain times. Then and there, she began using a changing vocal dynamic.

Danielle studied guitar with Geoff for about six months. Additionally, she studied the Stefan Grossman transcriptions (written and audio) of the guitar of Mississippi John Hurt. It actually took another year for her to digest and learn what Geoff had taught her.  "It was like I got all the food and then I processed it," she told me. Danielle developed a "rogue" mixture of what Geoff taught her and the Grossman transcriptions. She finds it fundamentally impossible to repeat someone else's stylings note-for-note — she'll develop her own version instead. Danielle also studied from an instructional DVD of Mississippi John Hurt's guitar style by Happy Traum and John Sebastian that combined video and tablature transcription. She still refers back to the Grossman/Traum-Sebastian material today.

The Style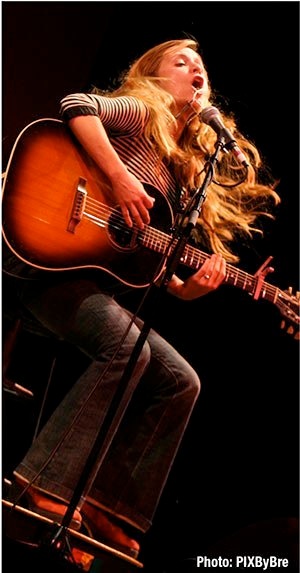 Danielle has had purists disagree with her about not following original styles note-for-note. She's been told, "If you're not doing it exactly the way they did it, you're not doing it." For Danielle, it's all about enjoying it and getting into the "feel" of it [we agree].
In addition to the strong, steady thumb beat on the bass strings, Danielle also uses a hollow foot stomp, sometimes amplified. Although she'd seen performers like Chris Smither use this sort of device, she never intended to copy it. The practice really evolved from using a foot stomp on stage to keep rhythm and provide percussion. On a gig where she needed to use a box for added height, she found herself rhythmically tapping on the box and liking the sound. Later, she asked a friend to follow her design to make a hollow device like a footrest that she could attach to her stool. In bigger rooms, she'll mic the device.

The Career Arc

Danielle has been performing steadily for 13 years since she attended her first open mic. It's been a full-time job for 10 years now. One of the first steps to creating a fan base for herself was hosting a weekly Sunday singer/songwriter night at The Burren in Somerville, Mass. Although she told me that her husband Tom hosts it now, she's still listed as the host on The Burren website.

I asked her about the guitars she's favored and she mentioned that the Yamaha her boyfriend got her in high school was a nice beginner's guitar (he took it back when they broke up — song opportunity!). She later got an Ovation, then a Guild and then found her first love in a Gibson [lots of blues in those Gibsons]. Danielle used to play standing up, but stays seated these days. She said she didn't start sitting down to play until she got heavily into blues picking. Also, she mentioned that it seemed less desperate than standing when playing in a noisy bar. Instead of looking like she was trying too hard, it was more just like "hanging out." Like, "I'm here, if you feel like listening."

The CDs

Danielle feels that her first two CDs were of little consequence — a part of the learning process — and that her recording career started in earnest with the album, Nothing Romantic. That's about when we made her acquaintance (as well as taking note of her impact at the 2009 Northeast Regional Folk Alliance Conference).

The album starts with "Snow Globe." The lyrics aim some well-deserved pointed barbs at those who would live in a cocoon or "snow globe," ignoring these troubled times.I'll never feel pain or fear … here in my snow globe. She uses a nimble Mississippi John Hurt-style fingerpicking pattern for this philosophical gem.

"Sell My Soul" gives the listener a ground view of the folkie beginner's life, grinding it out on the road. Tongue-in-cheek, she asks for a drum machine, and, in a reference to Robert Johnson, Tell me where the roads cross, I'm ready to sell my soul.

In "You don't Know Nothin,'" a reaction to some right-wing radio talk shows, Danielle flashes metaphoric sharpness. She conjures up a confrontation in a bar between a lefty folk singer and a Vietnam vet:

Where it's fish sticks and flannel / The waitress smokes Camels

And the coffee costs more than the beer

I was picking my bone / In a self-righteous tone

Thinking, "Minds just don't change around here."

I sang of Vietnam with a reaper-like charm

Code red and counting the dead

When an eight o'clock shadow with eyes like arrows

Slammed down his glass and said

You don't know nothin' / You weren't there

Til you've had shrapnel under your skin / You couldn't begin.

The "eight o'clock shadow" then displays his own ignorance, condemning abortion rights marchers on the bar's television. The singer retorts: Until you've had to make that choice / Keep your voice in your beer.

"Say One Thing" is a very satisfying blues romp decrying hypocrisy: Said the blind man, this is how I see it / Said the stalker, if you love that bird then free it / Said the white-hooded man, love your brother / Say one thing and do another. The tartness of a blues harp echoes the sharpness of her lyrics.

Although I first got cold-cocked by "Stagger Lee" and "Loud Talker" from Danielle's latest CD, Box of Troubles, there are other standouts. "Fold My Hand," the leadoff track, is from the story of serial killer Aileen Wuornos (played by Charlize Theron in the movie "Monster"). It's Aileen's attempt to face her execution: I looked in that man's eyes and saw my daddy's sins  / That made me walk the street since I was 10  / That trigger popped like a balloon to a pin  / No one will ever hurt me again  / I'm doing, I'm doing all that I can  / To fold my hand.

"Choir" is about preaching to the choir — the way that each of us tends to listen to just what we want to hear: When Dylan sang his words into the wind  / It rumbled like a universal hymn / Changing the world was the latest thing / All the kids jumped and screamed for the one they admired / But no one was listening / No one was listening / No one was listening but the choir.

We're ecstatic that we've caught up to this supremely intelligent and talented performer. It's a plus that finding out how good a writer she is now reinforces our first impression of a highly energetic blues artist.

We don't see any New York City dates in the immediate future. Area venue booking personnel, we're serving notice … get busy — get Danielle!

Website: www.daniellem.com

Upcoming appearances include:

Jul 1   8pm Sunday Blues @ The Beehive541 Tremont St., Boston, MA

7      8pm MindFull Books & Ephemera, 29 Main St., Jaffrey, NH

3      8pm The Center for the Arts (TCAN), 14 Summer St., Natick, MA,

        Songwriter's Night with Ryan Fitzsimmons & Amy Black  $20/$18

21    12pm Spruce Peak Summer Concert Series, 7320 Mountain Road,

        Stowe, VT

28    12pm The Malden Music Festival @ The Feed Store, 212 Main St.,

        Malden, IL

Aug 1   6:30pm Lyman Point Park Concerts Amphitheater, 167 Maple St.,

        White River Junction, VT

3      8pm House Concert, Severna Park, MD reservations:

26    1pm McLaughlin Vineyards, 14 Albert's Hill Road, Sandy Hook, CT