Bill Morrissey

November 25, 1951 - July 23, 2011

Diviner of Truth, Collector of Souls

by Richard Cuccaro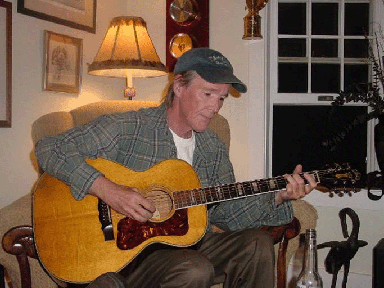 One of the best Woody Allen quips goes something like this: "I got kicked out of NYU for cheating. During my Metaphysics final, I looked into the soul of the boy next to me."

For Bill Morrissey, this isn't cheating. It's his life's work. It's as if God gave him x-ray vision for the human spirit -- all its hidden motives and knee -jerk responses. And with it came a laser beam of an eye for every tragic twist and laughable absurdity. Caring, all the while, for every soul he catches.

In the early 90's, the title track from Bill's fifth album, Inside, and another track from the same album, "Everybody Warned Me" were getting heavy airplay on WFUV. As he sang, in a reedy baritone, the figures sprang to life:

    "This ain't Hollywood. It never really gets that good.

    Call it love if you think you should. No need to explain…

    And you won't leave soon because I know,

    you're just like me, with no place to go ("Inside").

    In the railroad flats they talk in tongues

    and nobody breathes 'til the song has sung.

    You can look around but here's nothing here to steal.

    Take a look in the mirror and tell me how I feel…

    I wish you knew me like the desk clerk did,

    and he tried to warn me 'look out kid'  ("Everybody Warned Me").

A slate gray sky seemed to loom above the characters in both songs. While I was intrigued, the unflinching look at life's bleaker moments was something I didn't want to focus on then. It was too close, too real.

Recently my focus shifted back. Kelly Flint, vocalist for the on-hiatus band Dave's True Story, has embarked on a solo career and is touring often with Bill. She and her husband, bassist/producer Jeff Eyrich, suggested I contact him.

There was a new album, Come Running, and a golden opportunity to promote the CD and get reacquainted. A quick check around the internet revealed that Bill had recently undergone successful treatment for alcoholism,

a long-running condition that finally threatened to destroy him. A local New Hampshire newspaper quoted him, "I just hit the point where enough is enough." A photo was taken of him upon entry to the Long Island, NY clinic.

Re-emerging, he looked at it and said it made Nick Nolte's arrest photo look "just handsome as hell." That was a year and four months ago, and he's been sober since. The new album is richly textured and melodically diverse.

The songs show a mellowed, sage vision. Beyond the customary guitar and vocal, the songs also use horns and bear witness to Bill's lifelong fascination with jazz, blues and even funk.

Chasing the Blues

Initially, Bill apologized for missing my first call. The driveway had washed out and he needed to get someone across the gully. With typical wry sarcasm, he said of New Hampshire, "We've got ten months of winter and two months of mud." In spite of the hardships, he's quoted in the local newspaper interview in praise of Tamworth, the town where he lives: "… it's like living in 1963. There's a niceness about it."

We talked about how he got involved in music as a teenager. His first influences came from his parents' records.  "My folks had a good Broadway collection. I still listen to stuff from the golden years, the 40's, 50's and early 60's. The melodies are amazing. The jazz versions of Porgy and Bess by Miles Davis -- John Coltrane's 'My Favorite Things' (The Sound of Music)."

When he was 14, Bill's family moved to the Boston area. Everybody in town was playing a guitar.

"Some guy would figure out a Chuck Berry riff and it would travel through town like a virus until everybody got it. I fell in love with the country blues --Son House, Skip James… I looked at the Stones records to see who wrote what, then go get the originals. I could find Jimmy Reed records, but I looked all over the Boston area for albums by Chester Burnett and McKinley Morganfield. After a while I found out it was Howlin' Wolf and Muddy Waters!"

He got a "beat-up, 3rd hand" Silvertone guitar at 14 to learn how to write. "It was like playing a Mack Truck," he said.

A lot of Bill's friends had older siblings who'd go to Club 47. They'd come home with records by Dave Van Ronk, Eric Andersen, Tim Hardin, and of course, Bob Dylan. Bill would trace the music back, from Dylan, to Ramblin' Jack Elliot, to Woody Guthrie.  When he discovered the music of Mississippi John Hurt, it became the foundation for his own guitar style. "My whole right hand is from John Hurt," he says.

He'd hitchhike to Concord, the next town over, to a record shop that had a old-time listening booth. He didn't have money to actually buy an album, so he'd listen to a song for about 20 minutes to get the chords. Then he'd just put it back in the rack.

A friend and he would hitchhike into Boston to the Jazz Workshop on Sundays when they allowed minors to attend. They'd get there two hours early and nurse a coke at the front table until the show started. "The waitresses were really glad to see us," he said, with a touch of sarcasm. They'd get to sit three feet away from John Lee Hooker and Big Mama

Thornton and watch what they did. Today he acknowledges how lucky he was to have been able to watch the early blues greats.

Bill had a Jug band in high school where he learned to play in time with other musicians. Bill mainly played jug. Fritz Richmond of the Jim Kweskin Jug band was his hero. "He was the Ben Webster of the jug," he quipped.

After high school, Bill attended Plymouth State College in New Hampshire to study Visual Arts and English. "The school's one distinction was that they fired Robert Frost. Today they have a statue of him," he says. However, he fell into a chemical depression. All he could do was sleep and play guitar. "I put in a good seven weeks," he said. About all it accomplished was that he fell in love

with New Hampshire. He bailed out and went out to play folk music. This was 1969.  The folk scene was completely dead. He survived by playing mill town bars and apres ski clubs. He managed to run across other people in the same predicament. Today it sounds like a who's who: Patty Larkin, Cheryl Wheeler, Greg Brown, and Nanci Griffith.

He hadn't yet developed as a musician, so he relied on an improv comedic patter between songs.  "I knew they'd hire me back if I was entertaining. The audience would shut up and listen to the introduction, but as soon as I started to sing, they went back to their conversations. Hecklers were fun if they weren't armed. I can think on my feet. There was this place called the Chit Chat Lounge. There were guys who had gotten out of the mill at 3 o'clock and had been drinking since then. One drunk wanted to hit me. He swung around in circles. The circles got bigger and bigger. He finally passed out on the floor and remained there for my entire show.

Another drunk came up during a break. He asked [slurring] 'Could I play your guitar?' I explained that it was my tool, how I made my living. He said it again and pulled out a snub-nosed Smith & Wesson .38. I said would you like a flat pick or a thumb pick? I handed him the guitar and watched him like a hawk. He played it a while and handed it back and slurred a 'thank you.' I wouldn't want to do it again, but it was a great training ground. You either pack it in or get tougher.

What was frustrating was hearing the barroom folkies, human jukeboxes, who would just do covers and sound like Paul Simon on one song and Neil Young on the next. I saw early on that it was a one-way ticket to the next Holiday Inn. You've got to find your own voice.  Fortunately I wasn't good enough to sound like other people.  What really set it off was seeing a New Hampshire folksinger in a cowboy hat singing songs about the west. I thought… 'No! We

don't wear cowboy hats in New Hampshire! I was tryin' to think of the last cattle drive we had here in Durham (NH): [sarcastically] 'gotta get that herd down to Portsmouth!' A light went off… 'write about the mill towns… the people you know…' Gradually, that's how I was able to find my own voice."

One of his early experiences found its way into his first novel. Around age 25, Bill decided to join a bass player in going up to Alaska to work the fishing boats for a much-needed cash infusion. During the first day out at sea, Bill realized, at 135 lbs, he really wasn't strong enough for the type of hard labor involved in pulling in the full nets. He looked around and there was no place he could quit to. The first 21-hour day ended with Bill collapsing into his bunk. He was awakened 3 hours later by the sound of the engines. It felt like only 5 minutes had passed.

His whole body was stiff, but he had to work through it. By the end of the summer, a season full of 21-hour days, he  looked, he says, like a "mini-Schwartzenegger."

Bill came back to New Hampshire in 1976, not much richer, having worked for a captain described as "the madman of the fleet."

He began playing the Sunday open mic at the venerated Newmarket, NH live music venue, The Stone Church on a regular basis. It lasted from 12 noon until closing. Performers got a free roast beef dinner and all the beer they could drink. "It was my one full meal of the week," he recalled.

The Writer's Group

He began dating Annie Williams, a freshman at the University of New Hampshire who attended the open mic. She was the daughter of a professor at the University, Thomas Williams, a novelist and 1975 National Book award winner. Williams became a mentor and supporter, attending many of Bill's performances. He had built his own cabin upstate in the White Mountains and would invite Bill to spend weekends hunting and fishing. Other writers attended these weekends. Bill would soak up the conversation as Williams and writers like John Irving would discuss hunting grouse and what fly to use at what location on a stream one minute, then the work of Raymond Carver the next. A young Stephen King asked if he could come and meet him just after selling his first novel, Carrie, Bill remembers Stephen driving up in a beat-up pink Cadillac. A major element that became a cornerstone of Bill's work, he learned from hanging out with Williams and the other writers: "Say what exactly what you mean as economically as possible and get out and get

on to the next sentence." That's why, Bill says, he spends more time editing his songs than he does writing them. There is a cadence in a well-written line.  Three different words might work in one place in a sentence, but only one will scan correctly.

The Recording Career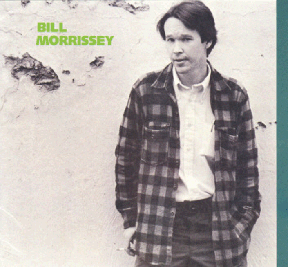 After performing throughout New England in the 1970's, Bill signed with Rounder Records and released his self-titled debut album in 1984. He was 31. The characteristic display of brilliant writing was there from the beginning, especially in the album's first two tracks.

In "Barstow," we encounter Parks and a group of other hobos. They're passing around a bottle. It's quality is less than sterling :

    It ain't much, it ain't good, but it'll get us through 'til dawn

    Don't the freight yards sound like a drunk in a metal shop

    I can't believe it gets this cold in Barstow

    I can't believe I pissed my 20's away

In "Small Town on the River," a capsule of history is revealed"

    They used to come to town from the naval base

    looking for a stiff drink and a pretty face

    hang around the whorehouses all night long

    Some were drifters, some were bums

    some just waited for the war to come

    out behind the factory, with a bottle and a factory girl

    In that small town on the river

    That December, war broke out, many a woman lost her man

    Some wrote from overseas, some didn't and their women

    didn't understand and the whores left for the harbor towns where

    the business was still good

    And the factory girls put in double shifts,

    worked as much time as they could

    In that small town on the river…

The men come home and try to put their lives together. Some make it and some don't. For four minutes we're in there, reliving it all.

There's enough pathos to bring a tear to the listener's eye. Of course, there's also Bill's trademark dark humor. In "Live Free or Die,"

a convict locked up in New Hampshire is forced to stamp out license  plates that bear the song's title. Bill imagines that this might be his train of thought:

    Oh lord why can't they say, "seatbelts fastened," 

    or "Oklahoma is OK,"

    "Vacationland" sounds mighty great

    I wouldn't mind stampin' out the Garden State

     It's enough to make me cry… Live free or die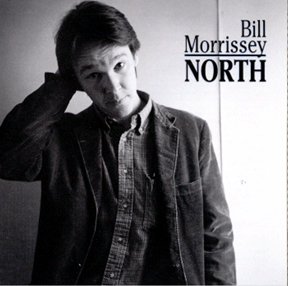 The second album, North, released in 1986, contains a lot more of the same. The title track is a stunning recitation that tells about a man

thinking of his deceased father:

   Papa's been gone six years now

    He got to choose the how, and when and where he'd die…

    Papa told me once / a man must work if he's going to take care of his

    You've got to work the big woods 'and that's the only work there is

    But the big woods will just use you up / Drain your strength and soul

   and ask for more

    until you find yourself a broken man pushing forty

    and just can't do the job no more …

    I believe I was the last one to see the old man alive

    He lost his job at forty-one, took himself out at forty-five

    I saw him walking down the tote road with his 12-gauge pump

    and a pint of rye

    And it just wasn't in me to stop him / Goodbye papa, goodbye…

Once again, we sit in the bar next to the narrator, filled with dazed sadness, sharing his whiskey and cigarettes, swept off in the eddy of that life, as a slide guitar sighs in the background

For Standing Eight, released in 1989, Bill took greater control of the recording. He got artists such as Shawn Colvin

and Suzanne Vega to add their talents. On Standing Eight, two songs in particular represent both the serious and humorous side of Bill's repertoire. It's easy to imagine Bill driving from gig to gig, with "Car and Driver" writing

itself in his head. It's a live track talking blues, with an audience breaking up throughout the performance and it tersely describes what he believes owners of certain cars are all about:

    I'll bet you a ten, even a fiver / You find the car, I'll find the driver…

    I have a Mercedes with MD plates / I have no trouble finding dates

    I have a 1980 Subaru / One more semester and then I'm through

    I make a lotta dough in a high-tech job / Yeah, you bet,

    I drive a Turbo Saab

    Well, I just air-brushed my Econoline / A friend of the devil

    is a friend of mine

    And my BMW draws applause / I am not bound by traffic laws

    I got a Ranger truck, I'm for import quotas / I won't park

    next to no Toyotas

    And my Volvo wagon will seat six / It'll run on diesel or trail mix

"Last Day of the Last Furlough" describes a man who is very, very lost:

    In the late afternoon, the sky and a calm sea

    Join and fade into the dirty silver of an old coin

    Its so still it could be morning / before the heat held in the sand

    We have the beach to ourselves now / The brown-eyed girl,

    the empty man

    She wants to make love / I want to drink

    Drinking is what I do best

    She rolls onto her side / Reaches across the blanket for my cigarettes

    She asks me if I've called my wife / I tell her "No, not yet"

    And she says / Well, you can't stall forever

    You've got to make that call sometime

    But I just don't want to hear /

    A stranger's voice on that end of the line…

    And back at the motel, She takes a shower

    I watch the last rounds of the fight

    I pick up the phone and call a restaurant

    Dinner for two, someplace new tonight

    I try to picture my wife with her new love

    But I just can't get it right

    And I just want to do something I do well tonight

After completing Standing Eight, Bill went on a 3-4 week tour. He still wasn't well-known and the audiences were small. He came home to "lick his wounds." Instead of a drink and a nap, what he found was a phone message from Jerry Wexler, producer for Aretha Franklin and other well-known artists. Jerry said he liked Bill's work and wanted to record with him.

It was just the pick-up Bill needed.

Following the aforementioned Inside (1992), he teamed with Greg Brown in 1993, for an album of covers, Friend of Mine.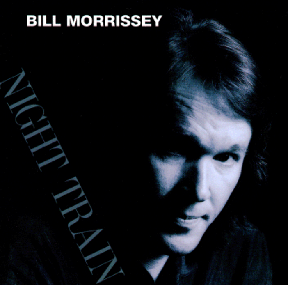 He also released Night Train the same year. This contains one of his all-time audience favorites, "Birches." The song describes the sad, dying emotions within a marriage. A husband and wife sit before a wood stove on a winter's evening, just before bed time:

    I think I'll have some wine / How about you she asked,

    and he declined

    Warren, she said maybe just for tonight, let's fill the stove

    with birches

    and watch as the fire burns bright / How long has it been

    know it's quite a while

    Pour yourself half a glass and sit with me a little while

Warren gruffly dismisses her, declining the wine and insists that they use oak, for it's more practical long-lasting heat.

She says "alright," but stays behind while he goes up to bed. Then:

   She walked down cellar to the woodbox

    It was as cold as an ice chest

    Then climbed back up with four logs

    each as white as a wedding dress

    And she filled the stove and and poured the wine

    Then she sat down on the floor

    She curled her legs beneath her / as the fire sprang to life once more

    And it filled the room with its hungry ligh

    And it cracked as it drew air

    And the shadows danced a jittery waltz / Like no one else was there

    She stood up in the heat / And she twirled around the room

    And the shadows they saw nothing

    But a young girl on her honeymoon

    And she knew the time it would be short

    soon the fire would start to fade

    She thought of heat, she thought of time

    She called it an even trade

I can't imagine a novelist expressing this any better.

The First Novel

It was probably only a matter of time, fiction writing being so much a part of Bill's nature. Alfred A. Knopf, Inc. published Bill's first novel, Edson, on April 11, 1996. He wrote it over 18 months, mostly  on the road, in motel rooms and in the back of the bus.

A story of a singer/songwriter, Henry Corvine, dealing with a marriage dissolution and a career downturn, it borrows heavily from his own life, but is not strictly autobiographical. Library Journal summarizes:  After years of touring and making three recordings, [Henry Corvine] quits when the corporate side demands too much artistic compromise.… drifting and now divorced, lands back home in Edson, New Hampshire, and kills time with his old drinking and hunting buddies. The plot holds few surprises, but evocative writing imparts fullness to the characterizations of ordinary people in a small mill town." Bill described Henry to me as "someone who reacts

differently than I did," to events that resemble events in his own life.

Currently, Bill's next novel is in the process of being published.

You'll Never Get To Heaven was released in 1996. This was followed by Something I Saw or Thought I Saw in 2001, In addition to his

tribute album Songs of Mississippi John Hurt (1999), Bill recorded "Pay Day" for the album of Mississippi John Hurt covers, Avalon Blues.

"Something I Saw" would be his last full studio album until the current CD, Come Running.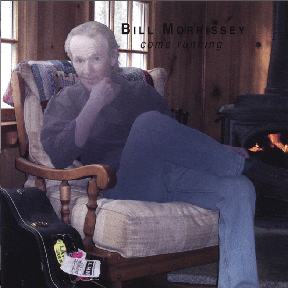 One impediment to Bill's lack of production might have been the passing of close friend, fiddler Johnny Cunningham, who died of a heart attack in December of 2003. Johnny's fiddle provided harmony on more of Bill's songs than anyone else throughout his entire career.

I got to see Johnny perform at New Bedford (MA) Summerfest many times and his bigger-than-life personality and exuberant humor were a joy to behold, in addition to his being a fiddler of Olympian stature. This was a huge loss, both in musical partnership and comradeship.

We hear pieces of grief in Bill's tribute to Johnny on Come Running in "Johnny's Tune:"

   Tonight I'll sing my songs for you, stand up here alone

    And then I'll make my way back to some motel I'll call home

    And wind down just a little bit with my guitar in that room

    But every night I still hear the harmony to every tune

    And these days the sun don't rise / as much as it goes down

    And things look a little different / now that Johnny has left town

As Kelly Flint put it, "Bill Morrissey is a national treasure." We agree. Any collector of quality contemporary folk music who doesn't own every Bill Morrisey album has some holes to fill. At some point, he will be revered as much as, and regarded as highly as someone like Dave Van Ronk. He deserves as much.

Web Site:  www.billmorrissey.net

Postmortem: July 31, 2011

On Sunday morning, July 24, 2011, as I was preparing to host singer/songwriter showcases at the Acoustic Live booth at Falcon Ridge Folk Festival, David Massengill came and told me that Bill Morrissey had passed away while on tour down south.

The news was sad and shocking. Today, July 31, as I update this page, the sadness continues its course through me as I listen to his songs on John Platt's Sunday morning show on WFUV. John replayed parts of his interview with Bill and the loss of the many songs he was about to record is joined by the sense of absence of Bill himself. He was simply a wonderful human being, his cracked voice imparting voluminous stories and memories. It hurts to know we will never see him again.