Madison Violet

The Canadian Invasion the America Needs

by Richard Cuccaro

Sometimes it all comes together in unexpected ways. You turn a corner and sheer perfection is staring you in the face. On city streets, it might take the form of a long-limbed beauty wearing high-heeled knee-high boots.

In the singer/songwriter realm, it might come in the form of two dazzling women singing songs that are pure ear candy, blending perfect harmony with melodies and life-forged lyrics that insinuate their way into your psyche.  So it happened with Brenley MacEachern and Lisa MacIsaac, who call themselves Madison Violet.

A little more than a year ago, on February 9, 2010, Madison Violet appeared as part of John Platt's On Your Radar series at the Living Room in New York City's East Village. The following fall they showed up at the Northeast Regional Folk Alliance (NERFA) Conference. Our interest had been piqued initially, but NERFA sealed the deal. We had to get behind this amazing duo — to tell their story and trumpet their talent.

Both women share many things. Among them is an intensity of expression apparent even in conversation. As they described their evolving life paths to me, the phone line hummed and crackled with their energy.

Beginnings

Lisa MacIsaac grew up in Craignish, Cape Breton, Nova Scotia. "I grew up in a straightforward, straight-up, Scottish fiddling family," she told me. She was 7 years old when she started taking step-dancing and piano lessons.  At 9 years old, she and her three closest friends would go to the local community hall every Wednesday evening for group fiddle lessons. It was a social night out with friends as much as a learning experience. The teacher, Stan Chapman, was heavily involved in the careers of many a professional player in the younger generation in Cape Breton. Among them were Natalie MacMaster and Lisa's brother, the renowned Ashley MacIsaac. Lisa stated, "I don't know what he does or how he does it, but just about every fiddle player who does it for a living that's come out of Cape Breton was taught by Stan Chapman."  Lisa played for traditional Scottish square dances on weekends and in various folk bands. That was her means of income, as opposed to working in a fast-food restaurant, a more typical fallback for a teenager.

Although it is sporadically written that fiddler Natalie MacMaster is a relative, they are not related. Natalie did grow up four houses away and Lisa went to school with her. The street they grew up on is called "Fiddler's Row" because every house on the street has had someone in the household who plays fiddle.

In 1999, at 19 years old, she moved to Toronto as a backup vocalist/fiddle player for various country/folk bands. Within about six to eight months, she had met her future musical partner, Brenley MacEachern. This would enrich and enlarge the scope of her musical landscape. "I didn't even play guitar when I moved to Toronto. I learned what I know about songwriting as well as what I know about guitar playing from Brenley," Lisa said.

Brenley MacEachern was born in Montreal and grew up in a small Scottish community in the town of Kincardine on the shores of Lake Huron. Brenley's father is from Cape Breton, so she spent two weeks of every summer with family there, "down east," about a mile away from where Lisa grew up. Their fathers had grown up together in the same town. Lisa and Brenley were trading snippets of mutually shared childhood background a few minutes after they met.

Brenley was exposed to music from the time she was very young.  There were two cousins who played guitar and everyone on her father's side of the family sang. "There was always a kitchen cèilidh [party - pronounced kay-lee] going on," she says. Although she started singing while very young, she remained shy. Her brother was given a guitar for Christmas at some point. Behind his back, when she was around 12 or 13, Brenley would sneak into his room and play it whenever he went out to play with his friends. She became a better player than he and it did not set well with him. Later, her parents bought Brenley her own guitar. Some elements in her learning progression included using her brother's Eagles songbooks, and picking up songs from Crosby Stills and Nash albums from a friend's father. She also recalls learning how to play Don McLean's "American Pie." Later, while dating a guitar player in college, she got introduced to the songs of Cat Stevens. A love for Neil Young's work followed that. She wasn't serious about playing music for a living until her mid-20s, when she got inspired hearing women like Sinéad O'Connor, Tracy Chapman and Bonnie Raitt.

Brenley started writing, but harshly appraises her efforts as "pretty rough." She didn't really know how to write using the guitar, so a couple of times she'd get  together with another guitar player and sing the melody while he played along, but never liked the end result. Brenley realized she needed to learn how to play and sing by herself. Step by step, she learned how to play and sing while sitting, then standing. She then formed a band, Zoebliss, and began writing in earnest.

Colleges Flunk Out

Both Brenley and Lisa thought they were going to work in the medical field, Brenley as a lab technician and Lisa as a pharmacist.

Lisa's Quick Getaway

Lisa states, "I was in grade 12 and was asked to do a musical comedy touring show called the Cape Breton  Summertime Review. I took the last couple of months of school off, faxed in my work, and finished high school that way. I got a taste of the road and felt what it was really like. I was going to go to college at Saint Francis Xavier University in Antigonish, Nova Scotia, and study science the first year before studying pharmacy. I didn't think I had the stomach to be a doctor and I thought that the closest I could get to the medical profession was to be a pharmacist. September came and I went to 'Frosh [Freshman] Week' and got the university out of my system during that week and never enrolled for any classes. I realized that university just wasn't for me. Shortly after that I moved to Toronto to try my hand at doing music for a living."

Brenley's  "Good Old" College Try

Brenley went to two colleges, one in Sarnia / Port Huron, just across the bridge from the United States, and the other, just outside of Toronto at a college in Branson. Brenley told me, "My grades were really good in the first semester. In the second semester, I started dating the guitar player, hanging out with the 'wrong' crowd, having way too much fun and playing guitar all the time. That sent me in a whole other direction. I realized that I definitely wasn't going to stay in the medical field. I tried business — human resource management — and that didn't quite work. I worked in sales for a while and then joined a band. I realized the first time I sang on stage, right from the get-go, that it was what I had to do. It felt good for the first time in my life — it felt right. Within the first sentence that came out of my mouth, singing in front of a live audience, it was like I was struck by lightning — I know this sounds cheesy — Wow! This is so exhilarating! This is what I want to do; this is what I have to do."

The Singing Thing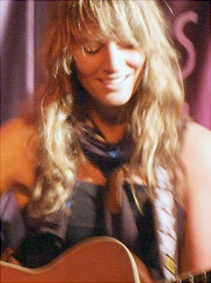 Lisa said, "I was the exact opposite. Brenley was exhilarated, and I was terrified. I used to sing in the church choir, which was fine, because it was a group and you could kind of hide behind things, as with being a fiddle player, you can hide behind your instrument. I sang in various folk bands as a backup vocalist. I would be about a foot away from the microphone until the lead singer would turn around and look back and then I would put my mouth up to it and pretend that I was singing into it. I was terrified to have my voice out there on its own. Then, when I met Brenley, our voices blended in a way that I had never heard before. That's when I started to get more confident. Now, being on stage, [singing] together, feels very natural, but it took a long time."
From online interviews we learned that Brenley had bought a looping machine and had looped her own voice. During a rehearsal session with Lisa, she left to get something and, from another room heard her own voice again, but with Lisa having added her own. Lisa hadn't yet sung on stage with Brenley due to her fear of being heard, and Brenley, having not been aware that Lisa sang, was thunderstruck at the sound of their voices together. "I felt, for the first time in my life, that I loved the sound of my voice — and that was because it was coupled with Lisa's," Brenley said. She continued, "By the time I got back, she had turned it off — and had erased it. It took a while for her to get up to the mic and sing."

I asked Lisa if she'd harmonized before meeting Brenley. She replied, "I'm drawn to harmonies and typically only hear harmonies. My two closest friends and I would sit together on the school bus, squished together, and sing three-part harmonies on Rankin Family songs. The fearful part was having my lips on that microphone and knowing that it was raw and everyone in the audience could hear what was coming out of me. It was all about the harmonies for me. It was never lead. It's only since Brenley and I have been performing together -— and it took 4 or 5 years — before I would sing lead on a song."

The Evolving Style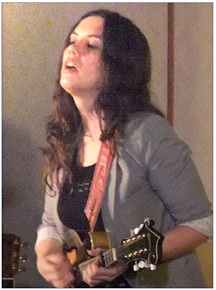 When they started out, and Brenley asked Lisa to jam on fiddle and sing a bit with Zoebliss, an "ambient trip-hop band," they were light years away from their current style. Brenley began writing in a folkier rootsy style for the two of them, and Zoebliss fell away, since the other members of the band had day jobs and couldn't keep pace. At that point, although they began performing as a duo on guitar and fiddle, their music still leaned more toward pop and they often toured with a band, calling themselves "Madviolet."
The country-ish/bluegrassy nature of their sound comes directly, as Brenley explained, from their parents' record collections. When Lisa and Brenley compared the collections a few years back, it was "pretty uncanny" to recall the number of Loretta Lynn and Dolly Parton albums their parents had. The same similarity applied to the number of fiddle albums, Gordon Lightfoot, Beach Boys and Elvis Presley records. When I characterized Gordon Lightfoot as a Canadian-bred country influence, Brenley countered that, as a touchstone, he was a lot folkier, less country-like than, for instance, Neil Young, one of her major influences. While they'd initially steered away from their parents' tastes, they both admitted to a secret love of American country music. When they allowed themselves to start writing that way, it came easily and naturally. It flowed into what they both already knew.

The longer they played together, the rootsier their sound got, the old record collection seeping in more and more. They reached a point where they considered themselves to be alt-country. They changed their name to Madison Violet for the most recent CD, to reflect their evolved style.

From the beginning, the two toured extensively overseas, more so than in Canada. They went to Australia  five or six times four years in a row, from 2002 to 2006. Playing in Australia for three to four months of the year also gave them a chance to evade the Canadian winters. Switzerland was another frequent stop.

Recordings - The Audience Votes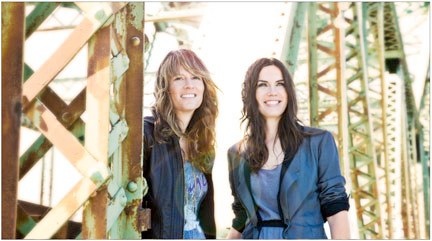 "Brenley told me, We haven't put out as many albums as we'd like to because we tour so often." They tour nine months of the year, with small breaks interspersed. They have one EP and three full CDs out to date — Mad Violet (2002, EP), Worry the Jury (2004), Caravan (2006) and No Fool for Trying (2009). The earlier work was highly produced. They were still trying to find their sound. Worry the Jury and Caravan were recorded in the U.K. with John Reynolds, a producer ( and a drummer) who was very drum and bass-oriented. As the two began to tour more as a duo and less with a band,  it was their desire that their albums become more "stripped" down and attempt to replicate their sound as a duo.
Of particular influence was an album they discovered around 2005 by Nick Lowe called The Convincer (released in 2001), which had a feel that reminded them of the old "Charlie Rich days." The writing was "so strong," said Brenley, it convinced them to go back to their roots.

When they sold their albums at shows, the fans took note of the more-produced sound on the CDs as opposed to the stripped-down sound of their live performances. The fans would buy the earlier CDs and come back and ask if there wasn't a recording that captured their live sound. Brenley commiserated with the ethos of their fans, saying she also gets disappointed when she buys an album and the layered production obscures the nature of the songs she'd heard live.

Les Cooper, a big Alison Krause fan and a local Toronto producer, was their choice to guide their most recent album, No Fool for Trying. For him, it was all about the girls' voices. His decision to strip the sound down to a bare minimum met some resistance, both women wanting more instrumental backup, especially from feisty Lisa. Brenley was the calmer voice of reason, bringing Les and Lisa together. "Brenley is a pretty even keel peacekeeper," Lisa was quoted in one online interview. In the end, they both agree that they're more than pleased with the final result.

I forgot to ask if the pedal steel on the first track, "Ransom," was a result of the girls' insistence. It sure works for me. It's one of my favorites. "Wood Shop," is wrenching in its factual portrayal of the aftermath of the tragic murder of Brenley's brother, Steve. "ashes 52" refers to its being the 52nd murder in Toronto that year. "Crying" is no doubt about him also. "Cryin' your eyes out … it's all about cryin' your eyes out." Simply heart wrenching. Brenley has said that she never saw him cry and [paraphrasing here] thinks it would've done him some good.

While I love their latest CD, I'm going to have to attest that I love hearing them rock out on their earlier work. I heartily recommend buying Worry the Jury and Caravan as well as No Fool for Trying.

The two are going into the studio in April to work on their next CD. We'll be eagerly waiting for the results and look forward to seeing them again soon.

Website: madisonviolet.com

Upcoming Tour dates in the US include:

Apr 30   Caffe Lena, Saratoga Springs, NY

May 1   2pm University Cafe, Stony Brook (Long Island), NY

4     Institute of Musical Traditions, Takoma Park, MD

5       Night Cat, Easton, MD

7      North Shore Point House Concerts, Norfolk, VA

Aug 20   Philadelphia Folk Festival, Schwenksville, PA