When Elisabeth Corrin Maurus — "Lissie," as she has come to be known — was born on Nov. 21, 1982, fate reached down and put a thunderclap in her voice and fire in her heart. Fiercely independent and distinctly individual, she would forge her own path in life, sometimes at great cost. Without knuckling under to fear, she found her way out into the world and made it back home with her principles intact.

In late December, as I updated our listings section, I saw that someone named Lissie was slated to perform solo at Outpost in the Burbs (Montclair, New Jersey) on Jan. 25, 2019. "Who's that?" I pondered. Whoops … a quick perusal of some video clips showed how under-informed I was. I figured out pretty fast (for me) that I had missed the rise of a phenomenal vocal and songwriting talent. I made arrangements to attend the show and was granted an interview, along with photo and video privileges.

I was prepared to be awed by this vocal powerhouse when we met for the interview prior to the concert. However, she came to the front of the cathedral performance space and began introducing herself in a down-to-earth manner to the volunteer staff. I stood slightly off to the side and she looked over at me with sheer openness when I introduced myself. Just like that, I was completely at ease. It was like meeting another new acquaintance, albeit one with world-class skills.

As she stepped onstage, acoustic guitar in hand, her look was natural — hair cut relatively short, pushed back by hand, little or no discernable makeup, jeans and rolled-up shirtsleeves. The concert was heavily attended, but with only a small group of hard-core fans. Most of those in attendance, like me, were new to her blazing talent. As she invited fans to sing along, there were relatively few who knew the words to the songs, but she glided through, acknowledging the cluster of die-hard fans but recognizing "some hearing me for the first time" — late arrivals to her fan base.

It was easy to see from hearing her live and watching hours of videos that, onstage, Lissie lives in her voice. In turn, it is husky and edgy and soft, and sometimes all at once. All the emotions that it took to write her songs are alive in every note that comes out of her.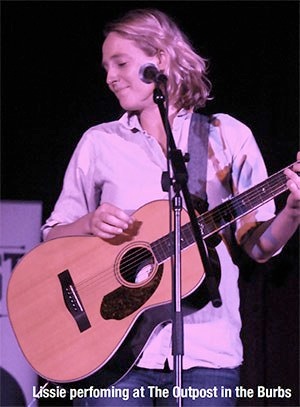 Earlier, I had been told I was to be allowed a 30-minute interview, but it ran 40 minutes. I'd read and listened to a lot of details online about some aspects of her development, but there were certain elements missing. What steps did this wunderkind take as she inched her way toward her career as a performer?

Roots

Lissie was born and grew up, the youngest of four siblings, in Rock Island, Illinois, on the banks of the Mississippi River, just across from Iowa. Her paternal grandfather was an international championship barbershop quartet singer, so there was a genetic source for her gift. When Lissie and her sister, Annika (next oldest to her), were very young, they saw him in the waning years of his career in local musical theater shows. They thought performing looked like fun, so, when Lissie was 5, their mother enrolled them in a performance arts program called Studio 17. She was in productions every season. Her mother was especially proud when she saw how Lissie would light up when she was onstage. Annika has said that, at home, Lissie would make up songs constantly, using them to express every emotion. This remains true today.

When she was 9, she auditioned for and won  the lead role in the local Circa 21 Dinner Theater production of "Annie." In an online interview, the venue owner said that, out of 230 auditioning girls, there was absolutely no doubt who would be playing Annie. Between rehearsals and shows (80 total), the play ran three or four months. Lissie took this responsibility very seriously. She went to the theater after school and would be excused for Wednesday matinees. This was huge for her, providing a base on which to build confidence and hope for her musical aspirations.

Teenage Transformation

High school was a troubled, transformative period for Lissie. She explains it with a mixture of self-criticism and awareness of hostile elements she faced at the time. She described herself as unintentionally ostentatious — speaking her mind sometimes inappropriately, blurting out dissatisfactions in school situations.

Lissie told me that initially, in high school, as a cheerleader, she had a sunny personality, However, this drifted toward a more withdrawn and introspective disposition during her second year. After her sophomore year she came down  with mononucleosis. The subsequent isolation "was the icing on the cake," she said. Noticing the change in Lissie's personality, her mother enrolled her at Interlocken (a creative boarding school) for the second half of her junior year.

Lissie had started to teach herself to play guitar in sixth grade, but didn't get much past two chords. At 14, she became progressively more serious with it. In between her stint as Annie and high school, she had taken lessons in classical voice training, but dropped them when she began singing with the guitar. At 16, she started going to coffee shop open mics and also played a cover at a school talent show. Sheryl Crow, Tori Amos and Fiona Apple were inspiring: "It was a great time for women who played instruments and wrote their own songs."

The Judgment Cauldron

The overall impression I've gotten of Lissie's teen years is of someone who was seeking her purpose in life and not finding it anywhere except in her music. Her boiling energy and her desire to get out into the world at large, where greater opportunities waited, was simply too difficult to quell. Sometimes, as the youngest of four children, ignored somewhat by older siblings, she had instinctively sought attention, going against the grain of the Midwestern mindset. Having an outgoing personality and an unconscious desire for attention got her into trouble in school, especially with repressed adult figures. There were times when she encountered bitterness in teachers who appeared to want to crush her spirit. Among other things, they denied her roles in musical plays, giving them to other, lesser-talented students.

The Quad City Times (serving Davenport and Bettendorf, Iowa, and Rock Island, Moline and East Moline, Illinois) reported in 2017: She heard of teachers and classmates calling her "dizzie Lissie" and gossiping about why she quit the cheerleading squad, why she dyed her hair red and why she stopped getting good grades. She was quoted: "I legitimately felt in high school that there was always one or at least two authority figures a year who had made it their personal mission to extinguish my light and put me in my place," she said. "It was hard being in this very traditional town where if you don't find your group, you're going to struggle a little bit."

In February of her senior year, after an altercation with a band director, Lissie was expelled from school and finished her credits for a diploma at an alternative outreach school.

She had written a letter to her ceramics teacher, a favorite, expressing her frustrations. He responded by showing up at her house with a vase he'd made (she still has it) filled with a dozen pencils, embellished with the words, "Rock Star." It gave her a much-needed boost.

Colorado

Lissie reached the first big step of her dream when she left Rock Island to attend Colorado State University in Fort Collins for two years. She chose journalism, thinking that if performing didn't work out, she could still express herself with writing. She never managed to get registered for the requisite journalism courses, though, and wound up taking a lot of liberal arts classes.

She continued playing and singing. Lissie didn't hang out with other college students; instead choosing to get out around town looking for places to perform. She did a lot of open mics and opened for touring acts that came through Fort Collins. Lissie collaborated with genre-bending DJ/producer DJ Harry of SCI Fidelity Records, singing lead vocal on the song "All My Life," which was featured on television shows House, The O.C., Veronica Mars and Wildfire.

Lissie kept writing and would play her own songs at gigs. She made an album in a garage studio called Rough Momentum for My Pearl, getting it pressed and printed locally.

She also spent a semester in Paris and found a way to perform there at the cave-like Bistro des Artistes. Navigating her way around Paris, not knowing the language and then figuring out a way to perform was a tremendous affimation. For Lissie, school was essentially over. Returning to Fort Collins, she worked for a couple of months, and then left for L.A. to pursue her goal of a musical career.

The Hollywood Dream

The sequence of events leading to Lissie's recording career might seem like a series of leapfrogging events with a certain inevitable successful outcome. That might be an oversimplification. While she certainly took the bull by the horns and created opportunities for herself, there were stops and starts; victories and setbacks.

Lissie moved to L.A. in March 2004. She had no fear and would walk up to venue operators and managers, holding her guitar, and ask them to listen to a song she'd written and if they liked it, give her a gig. She told me, "I was naive and thought: 'Of course I'm going to have a singing career!'" She attended the L.A. Musicians Institute for about six months and played open mics, pitching herself for steady gigs, finally landing one at an L.A. venue. Someone saw her perform and liked her voice.

Through that she was given a production deal that was housed in Happy Madison, Adam Sandler's production company on the Sony lot. That led to a deal with Maverick Records, a subsidiary of Warner Brothers. She began a recording process with producer Glen Ballard, but Warner Brothers disbanded Maverick Records and Lissie had to exit that arrangement with the help of her new (and current) manager Peter Leak. She also got celebrity-oriented work, i.e. singing at Ashton Kutcher and Demi Moore's wedding. However, she was not prepared to schmooze or network herself in this brand-new milieu and regards that time as very likely an unused opportunity.

In some respects, hanging out in Hollywood for a while was an idyllic period for her. In her mid-20s, she played with a band for the first time, had fun, had relationships, was growing up and was figuring life out. She had a community of musicians that she spent nearly every day with; she was part of a "scene." After five years, she moved to Ojai, California, which had a much more laid-back vibe, more suited to her Midwestern roots.

The Career

Her manager took her to the United Kingdom in 2005-6. She signed a record deal with Sony in the U.K. in 2007. Lissie toured with Lenny Kravitz in 2008 on his Love Revolution tour and her EP Why You Runnin' was released in November 2009 on Fat Possum Records. It was among Paste magazine's "Eight Most Auspicious Musical Debuts of 2009." 

Her debut full studio album for Sony Music UK's Columbia Records, Catching a Tiger, was released in June 2010. The single, "When I'm Alone," from that album would be chosen by iTunes UK as their song of the year 2010.

"When I'm Alone" is an emotional tour de force, an explosion of feeling, a way for Lissie to recover from heartbreak: And when I reach out and I only grab air / And it kills me to think that you never did care / And it's hopeless / You've always run off somewhere else.

Her second full album, Back to Forever, was released in 2013. Lissie has said she used to think she had forever to do everything she wanted, but after she turned 30, the sense of time elapsing made her realize the finite nature of life. The title track burns with reminiscence and longing: The summers that came lasted for ages / Drinking coke in the shade, sunburnt faces / I grew up and I … went away / But I always said that I'd come back someday / To be laid down / Take me back to forever / That's where I was born to be / How'd I end up in this land of never / Only memories.

The Breaking Point

Lissie's third full album, My Wild West, was an independent project. When Back to Forever, didn't do as well as expected, she was dropped by Sony in early 2014. She still had a management team around her and it seemed that she was "supposed" to get started, looking for the "next new deal." She'd go into song/planning sessions and continually received  negative responses from people around her. Suddenly, she realized, "I'm not enjoying this anymore." It was sobering to realize that her music — her "happy place" — wasn't working.

In a Billboard interview, she said: "I was very fortunate to have all these resources … but I got to a place where I felt like every idea I had, there was someone on the other side who said 'No,' or 'How about this instead?'" she explains. "It was too emotionally exhausting to fight, so I just stopped."

Thinking she'd drop out of the "music business," go back to school, learn something new to support herself and just drive around and sing at the occasional gig, she decided to leave California and buy a farm in Iowa, where she'd savored countless youthful days on vacation (she had found Iowa to be more beautiful than Illinois). She also could be near her family and be around "her people," the generally more friendly and open Midwesterners.

She had some songs in the works and figured she'd finish those and maybe just put them on Soundcloud.  She took them to L.A. producer and friend Curt Schneider. In the process, she started having fun writing again, without interfering critical voices, both in her head and outside. She kept bringing in new songs and before long, there was an album's worth. Kurt said, "Don't sit on this. You have to get this album out there." So, using her own money, My Wild West was released in February 2016.

Without having realized it, the songs she was writing for My Wild West had been telling her where her next path would lead.

After the Wild West overture, in track two, "Hollywood," she sings: Maybe it's time that I was leaving / I got a long way to go / I'm through with all that make-believing / Getting blood from a stone / Should've already known … Oh, Hollywood / You broke my heart just because you could …

In "Wild West," she acknowledges that the unhappiness she's been feeling in the music industry means she needs to take a step into the unknown: I've been living life on the edge / Slip and fall if I take one more step / There's safety in numbers, I guess / But I'm going rogue in the wild, wild west …

The track "Don't You Give Up On Me," this author's current favorite, may have been written as her path became clearer. Lissie told me that throughout her early years she had believed there was a protective force that watched over her. In her 30s, she felt that it had dwindled. She sings "Don't you give up on me" to that force: … What kind of world will there be / When I wake up from this dream? / I hear you call so far away / Just keep me close when I'm afraid / And don't you give up on me / As I dive into the dark / Slip into the endless sea / Don't you give up on me / Are you swimming in the stars? / Breathing in eternity / Don't you give up on me  … The wintry ethereality of the video, set on her farm, is magic.

Lissie contacted an Iowa real estate agent when she realized she wanted to move back home. The agent set up three farms to look at and Lissie flew in and picked one she said felt like home. She wrote the last track, "Ojai,"  just before leaving: Ojai, I don't wanna leave you behind / But you know that I made up my mind / So goodbye; I know I'm gonna see you again / And I'll be thinking of you until then, Ojai. Her vocal on this is simply stunning,

Lissie has said her newest album, Castles, released in March 2018, was written as she worked her way through a damaging relationship. She wanted to shed the elements that both she and her lover had contributed to the toxic exchange. Song by song, she takes us through all the phases of her struggle to let go. The title track illustrates the kind of wishful thinking that veils reality: I raised the gates and let you stay / I was building walls to keep from breaking / What kept you out now keeps you safe / Wouldn't it be good if we could rule together? / Love the way we should, castles / I've been hoping for something to last instead of falling down / Holding down / Castles …

My favorite track on the album, "Best Days," contains a sense of looking forward: 'Cause the best days of my life are coming for me / Waiting to be realized / I keep my eye on that prize / If the best days that I know are just in the past / Am I gonna last forever? / I want more best days / I could've stayed in college but I didn't wanna / I dropped out and moved to California / Left Ojai for the next best thing / Got a pick-up truck / I want a diamond ring /Oh, oh

Back Home

With her classic Nordic looks, Lissie could go the glam route if she felt like it. What is more central to her character is controlling her life and her music. That means going home to tend her farm: landscaping, gardening, cooking, baking, riding in her pickup and, among other things, singing to her dogs. While doing all of the above, she'll sing to herself about everything and anything that's on her mind or in her heart. That's the way she processes life — and how her songs are born.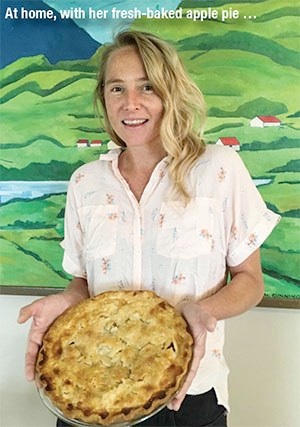 A new album, When I'm Alone | The Piano Retrospective will be available April 5th and can be pre-ordered. The album presents her most successful songs with Lissie on vocals and piano backup. Visit her website for information.

After the concert, I left through the rear exit. On the back porch, Lissie was taking a break with her tour manager before signing CDs. I gave my thanks for her time and hoped she'd be back again sometime soon. If Outpost series founder Steve Cutaia has his way (he'd been trying to book her for years), she'll be setting foot in Montclair again before too long. Learning about all the chapters in Lissie's life, for me, sparks a sense of respect and, from a fan's viewpoint, affection. As songs like "Don't You Give Up On Me," "When I'm Alone," "Best Days," and "Ojai" play an a loop inside my head, I revel in feeling that thunderclap in her voice. I wish for her all the "best days" she's fought so hard for.

I hope all our readers will do the same.

Website: http://lissie.com