Christian Bauman 

Sometimes the Pen is Mightier Than the Song

by Richard Cuccaro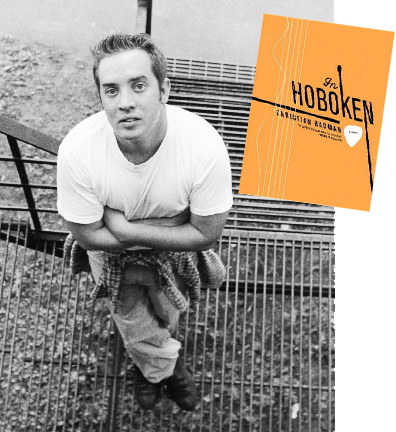 I can still hear it. "You can see Kismaayo, You can see Kismaayo from here…"

It was my first Fast Folk Revue ever at the Bottom Line. I didn't know anyone onstage,

any of the regulars who hung with Jack Hardy, the founder of the Fast Folk

Musical Magazine. They were singing a song by Christian Bauman, someone

I wouldn't know anything about until more than a year later. "Kismaayo…"

What did that mean? Was it, "kiss my ass," in some slang manner? It would become

clear later, that it was a soldier's recollection of a place in Somalia, where he'd served

not long after enlisting, four years earlier.

The experiences surrounding the essence of the song would also go on to evolve into

two novels, The Ice Beneath You and Voodoo Lounge and part of a third, the most

recent, In Hoboken. It is the third novel that brings Chris Bauman to the forefront of

our attention here at Acoustic Live. In Hoboken is the most vivid and engaging novel

this author has ever read about any music scene. Moreover, while fictionalized, it concerns

people and events that will be familiar to many patrons of the local singer/songwriter

scene in the mid 90's.

This all came to my attention because Vin Scelsa, long-time revered freeform radio DJ,

and host of Idiot's Delight Saturday nights on WFUV-FM, is such a voracious reader

and book hound. He grabbed Chris's latest offering off the bookstore shelf, with its bright

orange cover, started reading and began recognizing the characters and places inside the story.

Next step: he brought Chris on the program for a fascinating two-hour interview that

covered much of the former singer/songwriter and novelist's life. I was listening that night

and found myself totally drawn into a fascinating personal history. Somebody I knew, who

I had seen playing at The Fast Folk Cafe, and had his songs covered on a number of

Fast Folk recordings had become a captivating prose writer. While it seemed intimidating

to write a feature on such an accomplished writer, I decided to go for it. After an initial

e-mail to the publisher, Chris and I exchanged e-mails and arranged for an interview.

Beginnings

After a few minutes talking about our respective experiences with Pete Seeger, Chris discussed

his early connections to music. He had been encouraged by his parents to study flute and piano,

but did not take to either of them. "Both of them went horribly, horribly wrong, because I wasn't

interested in either of them." He chose to play drums because, he said, wryly, "it seemed the

easiest to learn quickly and it was a lot of fun and it would be annoying to my parents." He never

took lessons and survived as a drummer (barely, he says) through an innate sense of rhythm.

During the time he was playing drums in a rock band, his high school friend Gregg Cagno was

teaching him guitar. Two chords, and Chris had a song, three chords, more songs. "By the time

I knew four chords, I was writing my own songs." There was always the creative impulse driving

him to ask inwardly, "What can I do with this?"

We learn from his interview with Vin Scelsa that owing to divorce and emotional upheaval, his

childhood had not been a happy one. The chaos in his life would send him on a journey of self-expression to look for answers to his life's riddles. He spent a year in India when he was 13-14 years old. His stepfather, a professor, was on sabbatical and his mother had just graduated from medical school. They just decided to go "somewhere else." When Vin asked if his first name coincided with his religion, Chris answered: "I grew up with an atheist-philosopher stepfather, an Irish Catholic mother, a father who went from Episcopal to Jewish and then to born-again Christian. …India for a year, so there was Buddism and Hinduism… which leaves me… a wreck!"

Gregg Cagno, fellow rock band member, played electric guitar while Chris drummed, but offstage,

they both played acoustic guitars. Gregg and Chris kept in touch over their post high-school years mostly spent apart and wound up later as members of a tight knit singer/songwriter collective known as Camp Hoboken. In his late teens, Chris began to read more about Woody Guthrie and take a deeper interest the music of Woody, Pete Seeger and traditional folk. An intensified interest in acoustic music was sparked by hearing James Taylor, Crosby, Stills and Nash, Bob Dylan and the band America. For Chris, this was augmented by the songs of Woody Guthrie. Chris learned some of Woody's songs as soon as he learned his first chords.

The Gorka/Hardy Connection

A major jump forward on the path to folk music was the discovery in the late 1980s of the existence of Godfrey Daniels folk club in Bethlehem, PA. This allowed him to see acoustic music as a lifestyle and the people who were living it. John Gorka was one of those. John was a fixture there, still playing the open mics at that point. He was also driving around the country, playing gigs. When Chris heard this, he didn't believe it at first, thinking that way of life had ended around 1942. It sounded too good to be true. When he realized it was true, he thought, "That sounds like a pretty good job to me. I like that."  Chris began singing his own songs at the open mics as well. He also went on to become one of the open mic hosts for a couple of years. Observing that music could be personal, something you could write yourself and tell your own story in it… that's when it all clicked. Woody's story made more sense. All the pieces came together.

One of the best pieces of advice Chris and Gregg  ever got came from Gorka. John told them that, if they really wanted to take songwriting seriously, they should get themselves to Greenwich Village in New York City to Jack Hardy's song circle. "Tell him I sent you," John told Chris. There, the participants would be obliged to come in with one new song per week. That song would be then critiqued by the rest of the group. Some of the songs played in that circle would go on to be included in the recordings of the Fast Folk Musical Magazine, founded by Hardy. Along with Jack, Chris was hanging out with Frank Tedesso, David Massengill, Richard Shindell, Richard Julian and Hugh Blumenfeld. Chris himself was recorded and had some of his songs covered by others. Bauman began regularly attending Hardy's weekly workshops at age 19 and continued coming into the city for Jack's song circle for almost 3 years.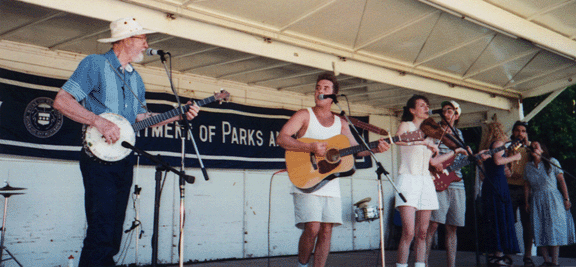 Pete Seeger joins Chris and other members of Camp Hoboken for a rendition of Woody Guthrie's "Do-Re-Mi."

Be All That You Can Be

Chris was a voracious reader and prodigious writer. He was an editor for his high school newspaper and explored theater as well. However, he did not get good grades in school. He was a rebel with long hair, a rock and roll kid, and he found schoolwork boring. He married his high-school sweetheart and his first daughter, Kristina, was born the day before he graduated high school. While Gregg went off to college, Chris worked blue-collar jobs to support his family. He also played guitar and sang around the local circuit.  Although he would realize later, that a number of elements in his life were leading up to the next chapter in his life, there was one catalyst that sealed the deal. As he describes it in an entry on his blog at christianbauman.com: "In early 1991… I was twenty,

with no college education, pumping gas for a living on Route 22 in western New Jersey. A doctor told me and my wife that our three-year-old daughter would soon need a kidney operation. An army recruiter told me Uncle Sam would pay for it."

That was all he needed to hear. While we're sure that Benjamin Jones in The Ice Beneath You is not exactly Chris himself, we're sure that the description from the novel falls pretty close to the way things went: "I borrowed his pen and without looking up signed the contract for U.S. Army, E-1 88L10, Waterborne. Private Benjamin F. Jones. I sat back, waiting to feel different, waiting to feel something. Nothing came. That was fine, too. I shook the recruiter's sweaty hand and walked home."

The above descriptive passage encapsulates why my reaction to Chris's work is so strong.  You look down and you read and it's all there. All the little reactions to life as it happens, moment-by-moment. Reactions and non-reactions. All those things that 98 percent of the songwriters leave out of their "heart-felt" lyrics. To them want to say, "How are you supposed to express all the gut-wrenching twists and turns of a life, if you don't pay attention?"

When Chris announced to the songwriters at Jack's that he'd joined the Army, they all shuddered in disbelief. Jack was the only exception. He understood Chris's circumstances and gave him two pieces of advice that would have life-saving/changing impact. First, he said, "Make sure you bring a notebook And your guitar if you can, but if you can't, take your notebook. Second, when you pull the pin, don't forget to throw the grenade!" Chris found both pieces of advice very useful. "Jack understood me better than I thought, and probably better than I understood myself at the time," says Chris.

Chris acknowledges that prose writing is his true métier, not songwriting, but the qualities in his prose are there in some of his songs too…  Before he left for basic training, Chris penned one of his most profound songs "The Places You Will Go." In the liner notes of his 1997 CD Road Dogs, Assassins and the Queen of Ohio, he states, "The verses of this tune came almost verbatim from the first piece of paperwork the Army ever gave me: DA Pamphlet 600-1, Information for the

New Soldier. A small sampling::

    Here is information for the new soldier

    We put it all together in this book

    So if you find it hard to sleep

    On your bus ride to Virginia

    If you got the nerve, take a look…

    The clothes we give you

    Are meant to be worn with honor

    You'll be expected to use the hangar and the shelf

    A sloppy soldier degrades his Army and his Country

    A sloppy soldier degrades himself…

    If you should should die while serving

    We'll bring your body home to your kin

    And if in death, you've lost your good looks

    We will put them right back on again

    In exchange for your life

    We'll give a flag to your wife

    The army takes care of its own…

    This is information for the new soldier

    So many things that you need to know

    You will be thankful as you get older

    All the strange places you will go

Chris recorded the song solo for Fast Folk Musical Magazine #601 and again in 1997

with Jack Hardy singing harmony on the Road Dogs CD. Later, after serving his four years,

Bauman felt sick about performing the song, thinking it had come from a too arrogant and

inexperienced place. Jack convinced him that he was wrong. Good thing.

We'd have to quote the song in its entirety to fully plumb its emotional depth.

He expected to spend his four years in Kansas writing poetry, but world events sprang two big

surprises. He got orders to ship out to Mogadishu and later found himself on a ship outside the

port of Kismaayo. What started out as a humanitarian mission to make sure food got to a

famine-stricken people turned horribly wrong, culminating in the massacre and public desecration

of a Ranger unit characterized in the movie "Black Hawk Down."  Transmissions from BBC radio

were giving reports of some very ugly incidents happening there. One told of the murder of a

Frenchman. Chris wrote the song "Kismaayo" in one sitting that night. Later, a lieutenant organized

a "mission" into Mogadishu to a store to buy a used guitar that they could sit around and play

(while getting drunk on African moonshine). The guitar was capable of holding only two chords,

A and D, so that's why "Kismaayo" is played with just those two. Chris mailed a cassette recording

off to Jack Hardy, and Jack sang it at the annual Fast Folk Revue at the Bottom Line that first night

this author made his acquaintance with Fast Folk.

    Robert told me he can see fear in a fistful of sand

    Standing watch at midnight the ocean fears nothing but the land

    Shooting through the atmosphere signals on a shortwave band

    But  all I know is what I know -- fear escapes from this letter in my hand…

    And last night in Kismaayo a Frenchman found a bullet in his head

    An argument over wages, guarding what the fat folks send

    The fat folk are comin' the fat folk are shootin', the little folk sometimes shoot back

    You can see Kismaayo, You can see Kismaayo from here…

The time in Somalia spawned the novel The Ice Beneath You. It contains some of the most harrowing scenes of what fatigue and nerves can do to a human being from boot camp onward into the battle zone. Chris made  sure to take his notebook and his memory of events was till fresh enough in the late 90's to build evocative scenes and crisp dialogue.

Chris's deployment to Haiti was the basis for his second novel, Voodoo Lounge. Again he pulls the reader underneath the skin of the characters to bring a more complete understanding of what it is to be soldier.

Although the lead character is a female, Chris says that she's partially his alter ego in the. story

("The two characters-Tory Harris and Junior Davis-are like the two sides of my head, I think. Light and dark.").

Bauman's  characterization of the novel's protagonist  prompted Jen Crispin of Bookslut.com to write: "[Bauman writes] a female voice that rings so true that it makes me want to hunt down every person who ever raved to me about how well Wally Lamb 'got' women in She's Come Undone and force them to read this book." The mission in Haiti began as an invasion to restore Jean Bertrand Aristede as president, but after a deal was made, the occupation became largely peaceful, the exception lying in the ugly things warring factions of Haitians were doing to each other, with frustrated U.S. soldiers restrained by the "rules of engagement." Every major aspect of that time is covered in the personal saga of Sergeant Tory Harris.

When Chris was finally discharged from the Army in 1995, he got back to the business of being a folksinger. Although he was basically a Pennsylvanian, he spent enough time in Hoboken with friends, crashing on couches, that he was easily assimilated into the cadre that would become Camp Hoboken. Chris spent the next few years traveling around the country singing in coffeehouses and clubs. His sharp-witted humor came across in his performances and would serve him well in the career to come.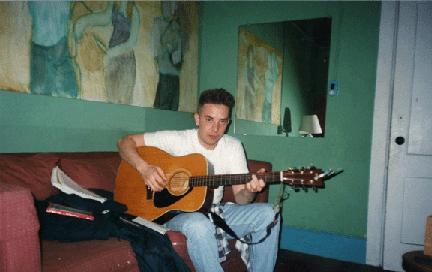 Backstage at Caffe Lena, opening for Odetta

The Folks We Call Friends

In his third novel, In Hoboken, Chris's decriptive poetry is on full display. Vin Scelsa chortled giddily after reading a passage dealing with the assorted Hoboken "firsts" from the well-known (Sinatra) to the heretofore uncredited (Baseball was first played in Hoboken, NOT Cooperstown). Some of the other "firsts" you might've missed: "Stephen Foster, though — who knew? But sure, that was him, Stephen Foster all shacked up at 601 Bloomfield in the cold year of our Lord 1854. Jeanie With The Light Brown Hair was a Hudson River Girl. And Mr Marconi, ladies and gentlemen, with his transmitters and wireless signals You might ask where would Francis Albert be without Mr. Marconi's signal to sing across? Sing all you want, Frank; Marconi made the difference between neighborhood and nationwide. Right here in Hoboken it all happened. Right here.

"Such a beautiful poem," Vin enthused.

Many of his experiences as a singer/songwriter came to the fore. Those of us who knew Chris and the Hoboken crew back then are having a field day connecting the characters with their real-life counterparts. There are obvious connections to characters based on people like Don Brody and Connie Sharar of The Marys, Linda Sharar, Gregg Cagno, and Chris himself ("Thatcher"). One of the most enjoyable connections was the fictional character based on Jack Hardy.

When I read the passages which describe the mentor figure of "Geoff Mason," "Mason with his gray hair and sharp blue eyes bright on a face just beginning to crease, hands buried in the pockets of green corduroys," I laughed out loud in gleeful recognition. Chris could've stopped there, but, of course he would need to describe Geoff's small apartment with the pictures of the wall of "Geoff" and other icons of folk music, the imbibing of wine and sharing of songs. As "Thatcher" reconnects with Geoff after resurfacing from the military, he plays some songs he's recently written and the following passage reads:

"They sat in the two old easy chairs, Geoff leaned back and balancing a glass of cabernet on his knee, Thatcher sitting forward, almost off the chair to accommodate the guitar he held. It was Geoff's Martin, beat and worn but fret action slim as an eyebrow. Thatcher's notebook was open on the floor at his feet. He leaned over the body of the guitar and flipped a few pages…"

The kicker is Geoff's lament that "no folksinger should ever play a major 7th chord."

Anyone who's ever strapped on a hollow-body in Jack's vicinity has heard that howl of protest.

Through all the violence of the military novels and the stumbling forward of Thatcher in Hoboken, Chris describes all three novels as love stories. This is absolutely true, although there is no "Hollywood" resolution in any of them. There is, however, a very deft hand in erotic description, another of Chris's talents. I bring this up because it's not an easy thing to do and many writers seem clumsy in that area. One more notch on the writer's holster belt.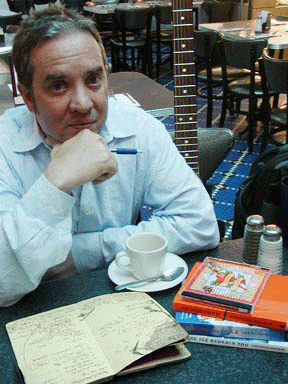 Chris at our breakfast interview

The Writer as Blogger

Chris has made a number of appearances on NPR, as a guest on Terry Gross's Fresh Air and as a semi-regular commentator on All Things Considered, and links to his ATC radio essays are available through his site. There are entries for reviews, interviews and some  stories of day-to-day experiences that are infused with humor. The one about editing a book about chefs, then taking a trip to a restaurant in California is sidesplitting (figuratively, and for Chris, almost literally).

Whatever Chris chooses to write about in the future he will forever be on our radar. We encourage our readers to make his acquaintance via his novels and web site. There's a friend out there, waiting for you.

Website: christianbauman.com